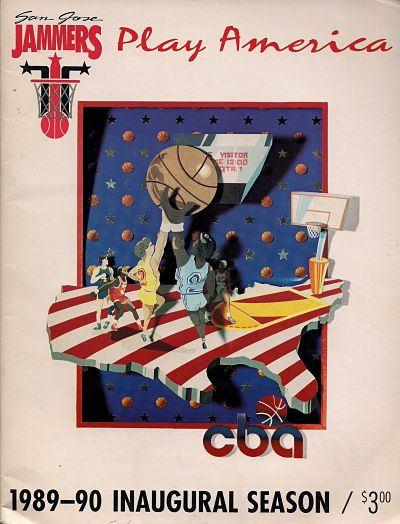 Continental Basketball Association (1989-1991)
Born: June 2, 1989 – CBA expansion franchise.
Moved: 1991 (Bakersfield Jammers)
Arena: San Jose State Recreation Center
Team Colors:
Owner: Dominic Cortese
CBA Championships: None
Short-lived Bay Area minor league basketball outfit in the Continental Basketball Association (1946-2009).  The San Jose Jammers were formed in the spring of 1989 as part of an ill-fated California expansion effort by the CBA.  The CBA, at the time, was the Official Developmental League of the NBA.  Both the Jammers and their expansion partner, the Santa Barbara Islanders, would be out of business within two years.
The Jammers were owned by California State Assemblyman Dominic Cortese.  After two seasons in San Jose, Cortese moved the franchise to Bakersfield.  In Bakersfield, Cortese would declare the team bankrupt just 23 games into the 1991-92 CBA season, causing the team to told.
The Jammers' biggest name player was probably Pearl Washington, the former Syracuse star and #1 draft pick of the New Jersey Nets in 1986. Washington never found success in the NBA and turned up in San Jose in 1989, 30 pounds overweight and a shadow of the player who terrorized the Big East just four years earlier.
==Links==
Continental Basketball Associations Media Guides
Continental Basketball Associations Programs
###