North American Soccer League (1974-1975)
Born: January 31, 1974 – NASL expansion franchise.
Moved: November 1975 (Minnesota Kicks)
Stadium: Mile High Stadium (43,103)
Team Colors: Royal Blue & White
Owners: Richard Olson, Calvin Kunz, et al.
NASL Championships: None
The Denver Dynamos were Colorado's first major professional soccer franchise.  The team was added to the North American Soccer League on the final day of January 1974, leaving the organization just three months to prepare for its May 1975 debut.  The Dynamos were part of a major West Coast expansion of the NASL during the winter of 1973-74.  Three of the other Western clubs formed during this 50-day expansion flurry – the San Jose Earthquakes, Seattle Sounders and Vancouver Whitecaps – went on to become iconic American soccer brands.  Re-boots of all three clubs play in Major League Soccer today.  The Dynamos, meanwhile, are all but forgotten.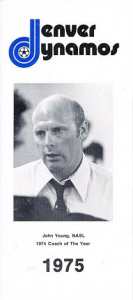 The Dynamos played two losing seasons at Mile High Stadium. The 1974 squad finished last in the NASL's Central Division with a 5-15 record. The 1975 squad was marginally improved at 9-13 but still failed to make the playoffs.
The Dynamos' best player was South African striker Ace Ntsoelengoe, who joined the team in 1975. Ntsoelengoe finished 9th in the NASL in scoring that summer with 10 goals and 5 assists.
In November 1975 Dynamos ownership sold out to Minneapolis interests.  The team was re-named the Minnesota Kicks in 1976 and became a hot ticket in Minneapolis during the late 1970's, occasionally drawing crowds in excess of 40,000.  The club fell on hard times in the early 1980's and went out of business in late 1981.
The NASL returned to Denver and Mile High Stadium three years after the Dynamos failed, adding the Caribous of Colorado expansion team in 1978. The Caribous were even less successful than the Dynamos, leaving town for Atlanta after just one losing season.
Denver Dynamos Memorabilia
In Memoriam
Former Dynamos forward Ace Ntsoelengoe died of a heart attack on May 8, 2006 at age 54.
Links
North American Soccer League Media Guides
North American Soccer League Programs
##