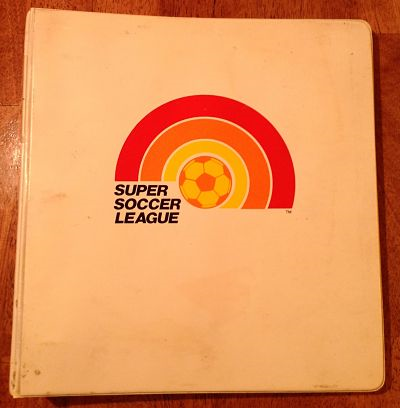 SUPER SOCCER LEAGUE
Announced: January 5, 1978
Vanished: Summer 1978
Founders: Dennis Murphy, Jerry Saperstein, Richard Ragone, Norm Sutherland, Fredric Wise & Dr. Elliott Gorin
Periodically, some persuasive entrepreneur claims to have developed the sport of the future.  And from the 1960's to the 1990's that man was often named Dennis Murphy.  Murphy was involved with the formation of the American Basketball Association (1967-1976) and the World Hockey Association (1972-1979), both of which sought to challenge the dominant leagues in those mainstream sports and ultimately forced mergers with the NBA and NHL respectively.
Murphy was also known for promoting oddball hybrids and mash-ups, concocting leagues and hawking franchises in previously unknown competitions such as including World Team Tennis (1974-1978) and Roller Hockey International (1993-1999).  Those ventures got off the ground and the low cost of entry typical to Murphy's leagues allowed young men like Dr. Jerry Buss and Robert Kraft to gain their first experience as pro sports owners.  Both men, of course, would go on to become iconic owners of some of the most famous and valuable sports franchises on Earth.
Other Murphy concepts never quite made it to the playing field.  The Super Soccer League of 1978 was one of Murphy's near misses – an attempt to launch the first pro league for the sport of indoor soccer.  His partners included Jerry Saperstein, son of Harlem Globetrotters founder Abe Saperstein, who served as the Super Soccer League's front man.  Richard Ragone and Norm Sutherland, a pair of former North American Soccer League (NASL) execs who were involved in that league's half-hearted experiments with the indoor game in the mid-1970's, were the resident soccer experts.  Ragone and Sutherland previously attempted to launch an indoor league called the Major Soccer League in 1975, but that project evaporated after little more than a press release.  Fred Wise, a retired Floridian industrialist, and a Beverly Hills dentist named Elliott Gorin were the sports novices, sold on indoor soccer as the Sport of the '80's.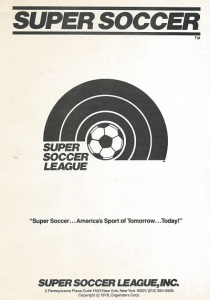 Very little information about the SSL has survived into the internet era.   Then, late last year, long-time minor league worker and historian Ed Kobak sold us this remarkable Super Soccer League binder from his collection.  It seems that Ed wrote away to the league office as a young man in the winter of 1978 and they sent him back this 150-page franchise prospectus and operator's manual.  It's a monster 50MB download, which you can grab in its entirety in the Downloads section at the bottom of this post, or you can pick out smaller selections chapter-by-chapter.
The early sections of the binder are a franchise sales pitch touting the demographic inevitability of soccer and the rise of NASL expansion franchise fees from $75,000 in 1974 to $1.25 million in 1978.  The Super Soccer League founders also took pains to reassure investors that they weren't buying into the awful Foreign version of soccer:
"Soccer itself is not without problems…most importantly, the game of Soccer, as presently played, is basically a low scoring game with a premium on defense rather than offense.  Many fans find this extremely boring."
The latter sections of the binder include an occasionally hilarious public relations manual, intended to coach novice sports investors on the finer points of dealing with the press, establishing booster clubs and creating season ticket campaigns.  Great care is taken to educate readers on the distinction between PR and publicity in this demented example of Anchorman-era chauvinism:
"The difference between public relations and publicity?  A woman who wears a subtle perfume is using public relations, whereas a woman who wears clothes a size too small is employing publicity.  Both can be effective."
The PR and sales kit is clearly the contribution of the former NASL exec Richard Ragone.  With its frequent references to the Orange Bowl, it seems to have been lifted from the defunct Miami Toros franchise where Ragone cut his teeth as a promoter in the early 70's.
Jerry Saperstein announced the formation of the SSL to the press on January 5, 1978.  The plan called for 16 teams playing a 32-game schedule to kickoff in June of 1978.  The 37-year old promoter rattled off a list of two dozen cities interested in joining the league but, as would become a pattern with the SSL, Saperstein wouldn't confirm any committed team owners.  The league's own internal list of desirable cities was a charmingly hand-drawn map of the 50 largest markets in the United States.
Not much happened during the early months of 1978.  According to soccer historian Dave Litterer, the SSL landed a five-year $2.5 million TV deal with 20th Century Fox Television.  But ownership commitments and building leases were slow to develop.  By April 1978, plans for a 16-team league were scaled back to a rumored twelve franchises, then to eight the following month and just six by June.  Meanwhile, the SSL still hoped to kick off on July 13, 1978.  Among the cities and teams rumored at various points that spring:
Franchise
Owner
Arena
Atlanta Wallbangers
Birmingham Bandits
Billy Lyons
Birmingham-Jefferson Civic Center
Los Angeles
New England
New Jersey
New York
San Francisco
Seattle
Shreveport Balls
Cal Rockefeller
South Florida Shockers
Norm Johnson & Frederick Wise
Hollywood Sportatorium
Toronto
Ruby Richman
Washington Fever
Richard Ragone & Richard Thier
Capital Centre
While the Super Soccer League floundered with franchise commitments in the spring of 1978, a rival group led by veteran arena sports investors Earl Foreman (basketball) and Ed Tepper (box lacrosse) was making better headway with their plans for a wintertime indoor league.  Foreman and Tepper's Major Indoor Soccer League (MISL) may have lacked the TV contract touted by the Super Soccer League, but they had real owners in six cities and locked up arena leases in big buildings like the Houston Summit, Nassau Coliseum and the Philadelphia Spectrum.
On June 21, 1978, after weeks of confusion surrounding the league's status, Jerry Saperstein acknowledged the inevitable and announced that the Super Soccer League would put off its debut until the summer of 1979.  Meanwhile, the MISL launched successfully in December 1978 and would go on to play 13 seasons, eventually becoming the highest level of pro soccer in the United States in the late 1980's.  The Super Soccer League was never heard from again.
The Super Soccer League misfire marked the start of a long fallow period for Dennis Murphy.  Saperstein and Murphy had another venture together – a pro hockey team called San Francisco Shamrocks – which failed in 1979.  Murphy only got one league off the ground during the 1980's, but it was a typically Murphyian enterprise: a basketball league for short guys called the International Basketball Association, later changed to the World Basketball League.  But Murphy seemed to have no involvement with the league by the time of its 1988 launch.  His big comeback came in 1993 with the launch of Roller Hockey International (1993-1999), which was broadcast on ESPN and attracted Major League investors such as Jerry Buss and Howard Baldwin.
Jerry Saperstein is now in his early 70's and still involved in sports promotions.  His latest venture is the American Giants, an exhibition basketball team comprised exclusively of players over seven feet tall.
The Super Soccer League's resident "soccer guys", Rick Ragone and Norm Sutherland, finally got their franchise in 1980, when they acquired a Major Indoor Soccer League expansion franchise for Phoenix, Arizona.  Neither man had the deep pockets to run a money-bleeding MISL club, so Ragone tapped his Miami connections and reportedly assembled a frightening group of Cuban exiles and para-military adventurers to fund his Phoenix Inferno franchise.  Although the Inferno lasted just three seasons, they would outlive Ragone, who died in a two-car accident in Arizona on December 22, 1981 at age 36.
==Full Download==
Complete 1978 Super Soccer League Franchise Prospectus & Operations Manual (47.7 MB)
==Chapter Downloads==
###