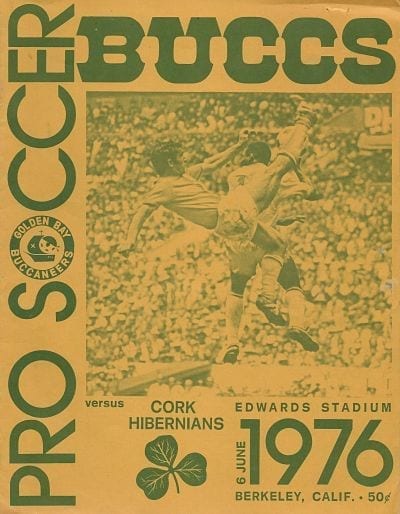 American Soccer League (1976)
Born: 1976 – ASL expansion franchise
Folded: Postseason 1976
Stadiums: 
Team Colors:
Owner: Jaime Ruiz Llaguno, Juan Jose Camacho, Leon Crosby, et al.
ASL Championships: None
The Oakland Buccaneers (also known as the Golden Bay Buccaneers) were an obscure U.S. pro soccer club that played one season in the summer of 1976.  The team was a typical lower-division disaster of the era, beset by bounced paychecks, non-existent promotion and vanishing owners.  The penniless club operated the final months of the 1976 season without so much as a working phone line, a subject of frequent mockery by The Oakland Tribune and the Fremont-based Argus, both of which somewhat inexplicably gave the team coverage.
The Buccs were founded in early 1976 as part of a nationwide expansion of the 43-year old American Soccer League. The ASL was traditionally a Northeastern semi-pro collection of ethnic clubs. But the league became fully professional in the 1970's and became the de facto 2nd Division of American soccer. Clubs in Los Angeles, Oakland, Sacramento and Salt Lake City were added in 1976 to give the ASL a true national footprint for the first time. All but the Los Angeles Skyhawks franchise turned out to be poorly-organized basket cases.
The founder and principal owner of the Buccs was a tequila exporter from Guadalajara named Jaime Ruiz Llaguno.  Llaguno signed former C.D. Guadalajara manager Javier De La Torre to coach the team and talked of playing at the Oakland Coliseum.  That grandiose plan fell through and the Buccs wound up at Edwards Stadium, the track and field venue at California-Berkeley. Midway through the season, Llaguno abandoned the club. Without any sort of announcement, the team left Berkeley and shifted its games to Tak Fudenna Stadium, a high school football field in Fremont. The players and a couple of staff members soldiered on without pay and somehow managed to complete 18 of 21 scheduled games. The Oakland Buccaneers finished their only season with a record of 6-10-2.
The American Soccer League went out of business in 1984.
Oakland Buccaneers Shop

American Soccer League Logo T-Shirt by Ultras
Oakland Buccaneers Memorabilia
Downloads
June 6, 1976 Oakland Buccaneers vs. Cork Hibernians (Ireland) Program
June 1976 Oakland Buccaneers Fan Survey
Links
American Soccer League Media Guides
American Soccer League Programs
###