American Soccer League (1974-1977)
Born: 1974 – ASL expansion franchise
Re-Branded: 1977 (New England Oceaneers)
Moved: 1978 (Indy Daredevils)
Stadium: Pierce Memorial Stadium
Team Colors:
Owners:
ASL Championships: 1974
I was thrilled to finally dig up a program from the old Rhode Island/New England Oceaneers soccer club earlier this week.  The Oceaneers played in the 2nd division American Soccer League from 1974 to 1977 and any material from the ASL is tough to find.
The Oceaneers started out as an expansion club in 1974. Rhode Island took the ASL by storm in its debut year. The team finished the regular season at 16-2, allowing just 9 goals in 18 matches. American goalkeeper Arnie Mausser was the breakout star of the league. The Oceaneers defeated New York Apollo in the league championship series.
Mausser departed for the 1st Division North American Soccer League in 1975. The club fell back to mediocrity for the remainder of its mid-70's existence.
The Oceaneers starting goalkeeper from 1975 to 1977 was the late Tony DiCicco.  I had the pleasure of working with Tony thirty years later, when we were both with the Boston Breakers of Women's Professional Soccer (2009-2011).  By that time, Tony was a coaching legend in the women's game.  Winner of 1996 Olympic Gold and then 1999 Women's World Cup as Head Coach of the U.S. National Team.  But his own playing career, spent entirely in the American Soccer League from 1973 to 1977, was obscure. The history of the ASL has largely vanished into the dusty microfiche reels of public libraries in fading industrial cities.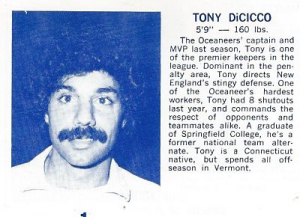 This program was from the final season of DiCicco's pro career and the final season for the Oceaneers in Rhode Island.  The club was known as the Rhode Island Oceaneers for its first three seasons and then became "New England" in 1977.  But this was just a semantic change – the club was always based out of Providence, RI.  The '77 Oceaneers featured a rogues gallery of minor league characters, straight out of central casting: Mohammed "The Baby Jet" Attiah, Helio "Boom-Boom" Barbosa and Tarik "The Mad Turk" Kupoglu.
The new Oceanereers Head Coach & General Manager for 1977 was a man named John Bertos. Bertos was a Greek soccer fanatic who brought dozens if not hundreds of Brazilian immigrants to Massachusetts in the 1960's and 1970's to play for his Lowell/Fall River/Boston Astros teams of the ASL.  Many of the Brazilian imports worked in Bertos' janitorial firm by day and played for his ASL clubs on the weekends.
After the 1977 season, new ownership took over the Oceaneers and moved the club to Indianapolis, where a name change was obviously in order.  The Indy Daredevils lasted two seasons before folding in 1979.  The American Soccer League went out of business after the 1983 season.
Rhode Island Oceaneers Shop

American Soccer League Logo T-Shirt by Ultras
Rhode Island Oceaneers Memorabilia
Downloads
1977 New England Oceaneers Booster Club Newsletter
1977 New England Oceaneers Ticket Brochure
Links
American Soccer League Media Guides
American Soccer League Programs
##