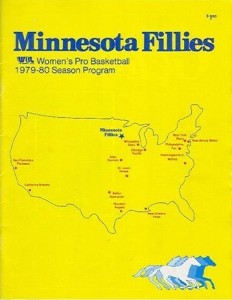 Women's Professional Basketball League (1978-1981)
Born: 1978 – WPBL founding franchise
Folded: Postseason 1981
Arenas:
Team Colors:
Owner: Gordon Nevers
WPBL Championships: None
The Minnesota Fillies were one of eight founding franchises in the Women's Professional Basketball League in 1978, which was the first pro hoops league for women in the United States.  Minnesota was one of only three clubs, along with the Chicago Hustle and New Jersey Gems, that managed to survive for all three seasons of the WPBL's existence from 1978 to 1981.
The Fillies made their debut on December 15, 1978 losing to the Iowa Cornets 103-81 at the Met Center in Bloomington before an announced crowd of 4,102.  The Fillies debut season was a study in chaos.  Three different women and two men coached the Fillies through training camp and a 34-game regular season schedule.  The coaches included team owner Gordon Nevers, a former mortician with no previous basketball experience. The Fillies finished the 1978-79 season with a 17-17 record and missed the playoffs.
The Fillies finest season was their second one.  Nevers hired former University of Minnesota star Terry Kunze to coach the team and the Fillies responded with a 22-12 record.  They defeated the New Orleans Pride in the playoff quarterfinals, setting up a best-of-three series with their arch rivals, the Iowa Cornets, in the semis in March 1980.  The Fillies blew out the Cornets in Game One by a 108-87 margin, but Iowa won the next two games and ended the Fillies' run.
Nevers' financial problems sank the Fillies third and final season in the winter of 1980-81.  The club left the Met Center in favor of the smaller Minneapolis Auditorium because it was cheaper and better suited to the typical Fillies' crowd of around 1,000 people a night.  Missed payrolls culminated in a March 21, 1981 protest by Terry Kunze and eight Fillies players prior to a game in Chicago.  The disgruntled Fillies walked off the court just before tipoff and refused to return.  Officials awarded  the game to Chicago via forfeit, dropping the Fillies record to a league-worst 7-25.  WBL Commissioner Sherwin Fischer suspended Kunze and the eight players indefinitely.
Minnesota finished out the season using replacement players.  The Faux-Fillies lost their first game by 48 points and finished the season 7-28.
Whether or not Nevers and his partners could have or would have re-capitalized the team for another season will never be known. The rest of the Women's Professional Basketball League folded before a fourth season could be staged.
Minnesota Fillies Shop

Met Center Retro T-Shirt by Throwback Max
Minnesota Fillies Memorabilia
Downloads
1978-79 Women's Professional Basketball League Brochure
Links
"Full of Heart in an Empty House", Sarah Pileggi, Sports Illustrated, March 10, 1980
Women's Professional Basketball League Media Guides
Women's Professional Basketball League Programs
###