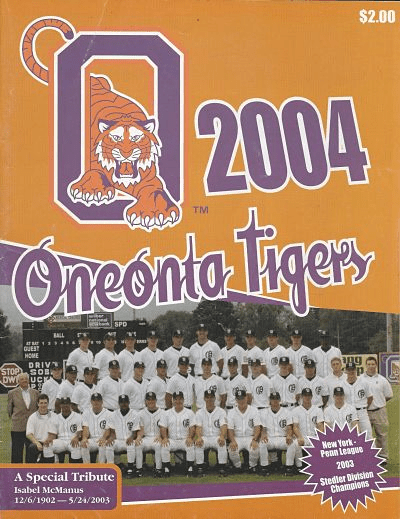 New York-Penn League (1999-2009)
Born: October 7, 1998 – Affiliation change from Oneonta Yankees.
Died: January 27, 2010 – The Tigers relocate to Norwich, CT.
Stadium: Damaschke Field
Team Colors:
Owners:
The Oneonta Tigers were the short-season Class A farm club of the Detroit Tigers for a decade between 1999 and 2009.
Tiny Oneonta (pop. 13,000), located just 30 minutes from the National Baseball Hall of Fame in Cooperstown, was a mainstay in the New York-Penn League for more than 40 years, beginning with the arrival of the Oneonta Red Sox in 1966.  For virtually that entire run, the ball club was owned and championed by former Oneonta Mayor Sam Nader, who controlled the team from 1967 until 2008.  Under the management of Nader's Oneonta Athletic Corp., Damaschke Field was a dry building and, by the early 21st century, the only team in organized baseball that didn't sell alcoholic beverages.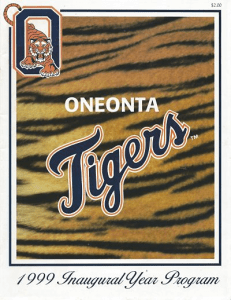 The stadium construction boom of the 1990's and 2000's brought the previously sleepy New York-Penn League into sparking facilities in larger cities like Brooklyn, Lowell (Mass.) and Staten Island.  Small New York cities and towns like Geneva, Little Falls and Watertown with aging, no-frills ballparks became an endangered species in the league.  That Oneonta hung in as long as it did is largely a tribute to Nader, who reportedly turned down multiple offers for the franchise over the years.   By 2008, however, Nader was nearly 89 years old and Tigers attendance consistently ranked at the bottom of the league at around 1,000 patrons per game.   That July, Nader sold the club to veteran minor league investor Miles Prentice, who already owned the Huntsville (AL) Stars of the Southern League and the Midland (TX) Rockhounds of the Texas League.
The sale terms included a provision that Prentice would keep the team in Oneonta through the 2010 season.  However, after playing one final season in the Oneonta in 2009, Prentice moved the team to Norwich, Connecticut in January 2010.  The franchise plays on today as the Connecticut Tigers.   The Tigers were replaced at Damaschke Field by the amateur Oneonta Outlaws of the New York Collegiate Baseball League.
==Links==
New York-Penn League Media Guides
###