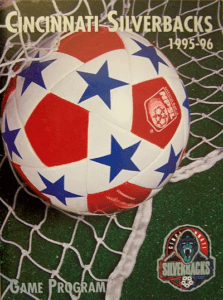 National Professional Soccer League (1995-1998)
Born: March 1995 – The Dayton Dynamo relocate to Cincinnati, OH
Folded: August 5, 1998
Arenas:
Team Colors:
Owner: Doug Kirchhofer, et al.
NPSL Championships: None
The Cincinnati Silverbacks of the mid-1990's marked the second attempt to establish professional indoor soccer in the Queen City. The Silverbacks followed the short-lived Cincinnati Kids, parrtially owned by Pete Rose (!), who played a single season at the Riverfront Coliseum back in the winter of 1978-79.
The Silverbacks were owned by Knoxville, Tennessee sports executive Doug Kirchhofer, who put together a small empire of Cincinnati sports and entertainment interests during the 1990's. Kirchhofer's Cincinnati Entertainment Associates owned the Silverbacks, the Cincinnati Cyclones of the International Hockey League and the Cincinnati Stuff of the International Basketball League. Kirchhofer and his partners also engineered the $35 million purchase and renovation of the Riverfront Coliseum in 1997.
The Silverbacks never got much traction in Cincinnati.  Announced attendance languished at the ancient 10,000-seat Cincinnati Gardens during the club's first two seasons. The club moved to the Riverfront Coliseum (re-named "The Crown") in 1997 after Kirchhofer's purchase of the bigger arena.  Crowds ticket up modestly at the Crown, but not enough to save the Silverbacks. The team claimed only 100 season ticket holders and less than $200,000 in corporate sponsorship in 1997-98. Silverbacks officials shuttered the team in the summer of 1998, finding it increasingly difficult to justify weekend dates for indoor soccer at The Crown at the expense of more profitable concerts and hockey games.
On the carpet, the Cincinnati Silverbacks brought in a handful of top indoor veterans, including Franklin McIntosh, Bernie Lilavois and Gino DiFlorio. DiFlorio finished 3rd in the NPSL in scoring in 1997-98. Carlos Pena held down starting goalkeeper duties for all three seasons.  The team never really put things together, managing a lone winning season (21-19) in 1996-97.  The Silverbacks finished in last place (15-25) in their final campaign in 1997-98.
Cincinnati Silverbacks Video
Links
National Professional Soccer League Media Guides
National Professional Soccer League Programs
##