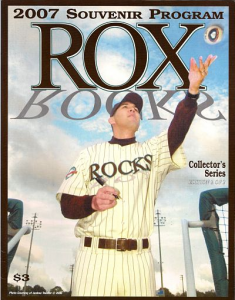 Brockton Rox vs. The Grays
August 25, 2007
Campanelli Stadium
Can-Am League Programs
88 pages
"Always go with your gut" and "always have a plan" both seem like solid pieces of advice.  But what do you do when those two decision-making maxims contradict each other?
In December 2005 I set off for the baseball winter meetings in Dallas.  I was three months into my first General Manager job, managing the business operations of an independent baseball club in Massachusetts called the Brockton Rox.  The Rox were quite popular at that time, drawing close to 4,000 fans per game at Campanelli Stadium, an $18 million ballpark erected in 2002.  But during the club's fourth season in the summer of 2005, average game attendance declined for the first time.  One factor among many was that the Rox' entertainment set pieces – the mascot routines, music & video board selections, between-innings entertainment and nightly promotions – had grown stale and repetitive.  Even on nights when the ballpark was full in 2005, the buzz of anticipation and the joyful noise of laughter and cheering felt subdued.
So I went to Dallas with a plan.  I was going to hire a new Director of Promotions for the Rox, someone brimming with fresh ideas.  And I was determined not to settle for anyone with less than two years of pro baseball experience.  Promotions is often an entry-level position in the low-level minors.  It's somewhat counter-intuitive, but the constant turnover of enthusiastic-but-inexperienced young people is a key reason why minor league teams get stale.
Once a team is several years old, a funny thing happens: the taste and sophistication of the team's fan base starts to surpass that of the young front office workers who arrive each spring to begin their sports management careers.  Tired old warhorses like 1980's theme nights, sumo wrestling contests, or mascots leading the crowd in the YMCA may seem fun & fresh to newly minted college grads who haven't attended many minor league games yet themselves.  But to the season ticket holders and other ballpark regulars, these are re-runs they have seen a hundred times over.   The Rox were known for creative entertainment.  We didn't have the luxury of another dull season while a first-year staffer rode out their learning curve.
Several industry veterans advised that I was likely to be disappointed in Dallas.  I was recruiting at the Professional Baseball Employment Opportunities (PBEO) job fair.  The PBEO is a terrific way to break into front office work.  Hundreds of entry-level jobs and internships are available all over the country.  But we faced a few challenges.  First, the PBEO is very much geared to students and recent grads.  The pool of candidates with two years or more of experiences was going to be shallow.  Second, independent baseball clubs like the Rox were banned from the Winter Meetings.  We snuck into the PBEO with bogus credentials and posted a fake job description under the name of a New York Yankees farm club to attract candidates.  We revealed the bait and switch at the start of each interview.  The bad news: you aren't going to be working for the Yankees or in a warm Southern climate.  The good news: we might have a job for you anyway.
I liked two candidates on Day One.  Mike Then was the Assistant General Manager of the Mankato (MN) Moon Dogs of the Northwoods League.  Mike had the two years of experience I was looking for.  He also had experience selling which was an unexpected plus.  And Mike had existing relationships with key vendors who sold promotional items and with some great touring acts like Rockin' Ray & Skyy Dogs USA and Jon Terry's SRO Productions.  My only hesitation with Mike was his steamroller enthusiasm.  During a second interview over margaritas at the hotel bar, Mike talked a blue streak, rattling off dozens of promotions he already had planned for the Rox to fill our entire 50-game calendar.  The Rox had a 12-person staff and part of our culture was that everyone collaborated on entertainment and customer service.  I wasn't sure how Mike's style was going to go down with the rest of the gang.  The point of the job wasn't to have all of the ideas yourself.  It was to draw out, cultivate and refine the best ideas from the entire organization.
The other candidate was Bailey Frye.  Bailey and I immediately clicked in our first interview.  She was charming, intelligent and genuinely creative.  Bailey's life was more or less a promotion in progress.  Example: she and her best friend impulsively flew from New York to New Mexico after becoming convinced they had discovered a clue to the location of a buried treasure (they hadn't).  I also sensed that Bailey would work collaboratively with our staff, rather than pound them into submission as I feared Mike would.
But Bailey didn't fit my preconceived plan.  Her only previous experience was as a student intern for the Scranton-Wilkes Barre (PA) Red Barons, where she was the on-field emcee during between innings breaks in 2005.   We met again for breakfast for a second interview and I pressed her further on the internship.  What kind of office duties did she have with the Red Barons when the team was on the road?
"Oh.  Well, the Barons didn't have any work for me in the office," Bailey admitted.  "I only worked on game nights."
My heart sank.  Occasionally you start to actively root for a candidate during an interview.  You know they've got longs odds, but you want them to say the right things to make you take the chance.  But game day internships are the lowest form of internship.  Some staff members don't even bother to learn your name.   You rarely get mentored.  Bailey had no experience working in an office atmosphere of any kind, let alone a baseball front office.  My gut told me that Bailey was the perfect fit for us, but I couldn't reconcile her lack of experience with our plan for the team.  A few days after the Meetings, I called Mike Then – the safer choice – and offered him the job.
And then serendipity happened.  Mike turned it down.  And I felt…relieved.  I dialed up Bailey.  A week had gone by since the end of the PBEO.  Had I waited too long?  Bailey answered the phone and told me she accepted an entry-level job selling tickets for the Kannapolis Intimidators in North Carolina.
"Congratulations," I said.  "Do you want to do that?"
"No."
And that's how I lucked into hiring the best creative mind I ever worked with.  (In fact, I've hired her twice).  She immediately revived the Rox game day experience in 2006.  I resigned after the 2007 season, but one of the last baseball promotions we worked on together was one of her best: KISS The Season Goodbye on August 25th, 2007 -Gene Simmons' 57th birthday.  This was the in-stadium video board promo:
The idea began when the Rox staff saw a KISS cover band called Kisstory play at the Westgate Lanes bowling alley in Brockton.  They sounded pretty good.  Ersatz Paul Stanley played a mirror ball guitar and had appropriately poofy chest hair.  Mock Ace Frehley looked constipated but nailed all his solos.  During "Strutter" a 70-year old woman emerged from the barroom crowd of 14 or so spectators and ground her hips lasciviously in front of a mortified Gene Simmons impersonator.  Fake Peter Criss was a better drummer than the real Peter Criss.
"One of the ways I brainstorm promo ideas is to look through birthdays and anniversaries of famous people and events," Bailey explained in 2012.  "I loved using music to theme games anyway, but what really excited me about KISS is how visual and over-the-top they are, which is what a promotion should be all about."
Bailey booked Kisstory for a post-game concert on August 25th.  I don't want to know where she found a group of high school majorettes (right) that performed to KISS songs in borderline S&M regalia.  They couldn't catch their batons worth a damn, but they looked killer flashing the devil horns in their KISS make up and black leather.
We brought Kisstory in early in the afternoon for a sound check and put them on a small trailer parked on top of home plate for a stage.  They were deafeningly loud.  I walked from home plate, down the left field line, out the back gate of the ballpark, through the Registry of Motor Vehicles parking lot and down around the corner past the Brockton Fairgrounds.  I could still make out the chorus of "Christine Sixteen" on Forest Avenue about six blocks away.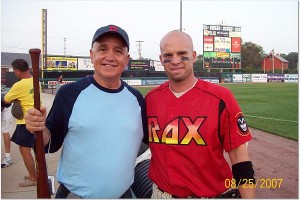 The finishing touch were the Rox' commemorative KISS uniforms for the night, featuring a Gene Simmons birthday patch on the sleeve.  (These were auctioned off for charity to meet payroll during the game).  The players actually liked these jerseys, unlike the pink ones we auctioned off for breast cancer research earlier in the year, when one pitcher actively tried to miss his scheduled start to avoid taking the mound in pink.
Unbeknownst to most of our staff, I had already handed in my resignation, effective shortly after the season.  I knew I wouldn't be working baseball again for a while, so I decided I wanted to sit in the production room and spin music for this game, a job I had loved during my first years in baseball as a promotions manager.
The challenge was to balance our KISS theme with the affordable family entertainment brand.  We cut out a large swath of the KISS oeuvre from the playlist: "Love Gun" (too suggestive), "Lick It Up" (too sucky), and everything off of "Music From The Elder" (too embarrassing).  We supplemented the soundtrack with a few era appropriate chestnuts by the likes of Van Halen and Cheap Trick.  And, of course, Gene Simmons' mind-blowing cover of "When You Wish Upon A Star" from his 1978 solo album.  Those played well with many of the fans, who were legitimately a little rougher around the edges than a typical Rox crowd.  More denim, more leather, more implants.
"I didn't know their music that well," Bailey recalled. " The one song that sticks out in my memory is <Peter Criss'> "Beth" because I remember you telling me at the bowling alley that if the drummer came out from behind his kit and sang "Beth" we could hire them on the spot.  I had never been so excited for a power ballad in all my life."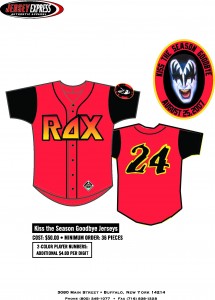 The production booth at Campanelli Stadium makes for a tight fit.  The P.A. announcer, video board tech and music tech are all jammed in shoulder-to-shoulder, surrounded by computer monitors, microphones and sound boards.  Early in the game, a Rox base runner broke from first on an attempted steal.  I accidentally bumped a volume level on the sound board with my right elbow while the runner was en route to second.  I already had my selection cued up for the next inning break.  Paul Stanley yelled out "Cold Gin!" (Alive! 1975) as the catcher sprang from his crouch to fire the ball towards second.  I quickly turned the level back to zero and then peered sheepishly at the field, where the catcher, umpire and pitcher were glaring up at the press box.
Bailey and her "Fun Team" of interns and local high school kids were in fine form that night, moving the theatrics along from one script point to the next with precision and efficiency.  Unfortunately, the same could not be said for the Rox and their opponents that night – a league-operated team of nomads called the "The Grays" that played all of their games on the road.  The first inning took over an hour to complete.  By 9:00 PM were still in the third inning.  We had an extraordinary noise curfew of 11:00 PM, which was typically only an issue with fireworks displays.  But the sound and fury of the afternoon's Kisstory sound check easily rivaled any pyrotechnics show.
In the end, the Rox and Grays ended up taking more than four hours to complete a nine-inning baseball game.  It was the longest non-extra innings game of the season.  It was sickening and I had to pull the plug on Kisstory's performance – the centerpiece of Bailey's vision.  The crowd booed vigorously and the band were clearly disappointed.  But they came down for an impromptu late game autograph signing and generated a huge line.  We brought the clumsy teenage dominatrixes/majorettes back out for an encore performance, accompanied by members of Kissory on air guitar.  The crowd was grudgingly forgiving.
Bailey's take:  "To say I was devastated was an understatement.  Not only was I bummed that all our planning and hard work wouldn't have a chance to be realized by the fans, but I knew the band was going to be heart broken.  One of the toughest things I have ever had to do was tell four grown men in full KISS makeup and costume that they wouldn't get to play their rock n' roll."
All-in-all, it was a spectacularly executed promotion.  We were crushed not to put the cherry on top with the post-game concert, but there was a silver lining when ESPN named KISS The Season Goodbye as one of the Top Ten Minor League Publicity Stunts of 2007.
Bailey Frye stayed at the Rox for four years.  When she left the Rox after the 2009 season, I jumped at the chance to hire her for the Boston Breakers of Women's Professional Soccer, where she once again designed the best in-stadium fan experience in the league.  Today she is the Events Manager for the Baltimore Orioles, the team she grew up cheering for as a kid.