North American Soccer League (1974-1984)
Born: December 11, 1973 – NASL expansion franchise.
Folded: January 1985
Stadiums:
Arenas:
Team Colors:
1977: Red & White
1980: Cyan, Royal Blue & White
Owners:
Soccer Bowl Champions: 1979
The original Vancouver Whitecaps were British Columbia's beloved pro soccer club of the 1970's and early 1980's.  The club competed in the North American Soccer League from 1974 until 1984.  The 'Caps also brought an attractive slate of international exhibitions to Vancouver, importing top foreign clubs such as Fluminense, Manchester City, Manchester United, Rangers and Roma for friendly matches and tournaments.  From 1980 to 1984, the Whitecaps played indoor soccer during the winter months.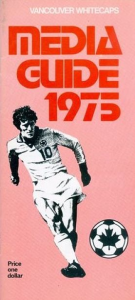 One of the NASL's top clubs during the late 1970's, the Whitecaps finest hour came at the conclusion of the 1979 season.  The Whitecaps dispatched the two-time defending champion New York Cosmos in the playoff semi-finals.  Then, on the Cosmos' home ground at Giants Stadium in New Jersey, the Whitecaps beat the Tampa Bay Rowdies 2-1 in Soccer Bowl '79 to capture their first and only title.  An estimated 100,000 fans gathered in downtown Vancouver for a parade to honor the team.
Midway through the 1983 season, the Whitecaps left their long-time home at Empire Stadium to move into the 60,000-seat B.C. Place stadium.  The team's first game at B.C. Place on June 20, 1983 drew 60,342 fans, which set a Canadian pro soccer attendance record which would stand for three decades.
But attendance in the new dome dipped quickly and by the start of the 1984 season, founding owner Herb Capozzi turned over controlling interest in the team to oil millionaire Bob Carter.  Carter's reign was an embarrassment.  With the club bleeding millions of dollars, Carter made noises about folding the club in the middle of the 1984 NASL season.  The 'Caps would end up finishing out the year, knocked out in the playoff semi-finals by the Chicago Sting.  While the 'Caps were playing out what would be their final games in late 1984, Carter was busy getting himself into hot water for lurid S&M hijinks with a pair of underage prostitutes.
Deep in debt, and with the rest of the NASL collapsing around it, the Vancouver Whitecaps declared bankruptcy in January 1985 and went out of business.
The Whitecaps name was revived in 2001 and the "new" Whitecaps now compete in Major League Soccer.
Vancouver Whitecaps Shop

Whitecaps NASL Logo T-Shirt by Neutral FC
The Short Life & Fast Times of the North American Soccer League by Ian Plenderleith
Vancouver Whitecaps Memorabilia
In Memoriam
Alan Ball (Whitecaps '79-'80) died April 25, 2007 of a heart attack while fighting a fire in his home. Daily Telegraph obituary.
Former Whitecaps GM Peter Bridgwater ('79-'83) passed away from cancer on June 21, 2005.  Soccer America obituary.
Vancouver Whitecaps founder and long-time owner Herb Capozzi died of cancer on November 21, 2011 at age 86.
Vancouver Whitecaps Video
The Whitecaps vs. Montreal Manic at Olympic Stadium in Montreal. August 1, 1981
Links
North American Soccer League Media Guides
North American Soccer League Programs
###