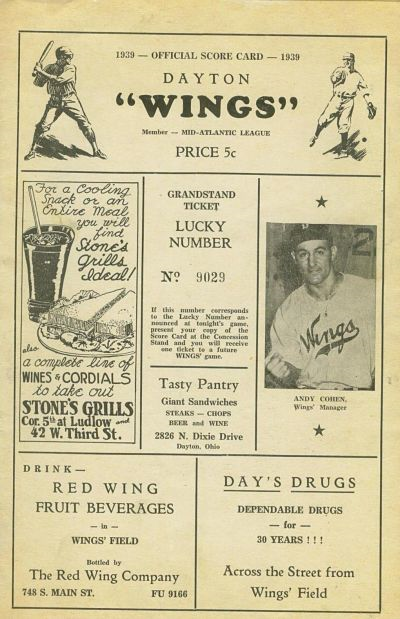 Middle Atlantic League (1939-1940)
Born: 1939 – Re-branded from Dayton Ducks.
Died: 1941 – Switched back to Dayton Ducks.
Stadium:
Team Colors:
Owner:
The Dayton Wings were a Class C farm club of the Brooklyn Dodgers.  The Dayton franchise played in the Middle Atlantic League from 1933-1942 and was known as the "Dayton Ducks" for all of that time except for this two-year interlude in 1939-1940.  The Ducks took their name from the team's owner and field manager, a cantankerous former catcher named Howard "Ducky" Holmes" who played one week in the Majors for the St. Louis Cardinals in 1906 and later became a Major League umpire.
The Dayton club seems to have parted ways with Holmes in 1939 and felt the need to re-brand the team at the same time.  In 1941, Holmes regained control of the ball club and changed the name back to the Ducks.
The most prominent player to come out of Dayton during the Wings era was Wally Westlake, who appeared in 30 games for the club as a 19-year old outfielder in 1940.  Westlake eventually made the Majors in 1947 and stayed for ten seasons, appearing in nearly 1,000 games and hitting 127 home runs for six teams.
==Links==
##