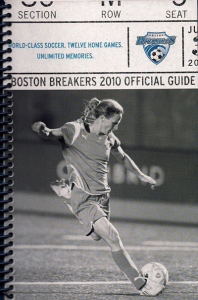 Boston Breakers vs. Atlanta Beat
August 4, 2010
Harvard Stadium
Attendance: ~1,500 (3,251 announced)
Women's Professional Soccer Programs
80 pages
Social media was always central to the marketing plan of Women's Professional Soccer (2009-2011).  Initially in 2008 and early 2009, the league misfired on a clunky and unlamented platform called Ning, but by late 2009, Twitter was the new big thing for WPS.  The league rapidly built up a then-noteworthy network of 250,000 followers (more than Major League Soccer at the time).
The league got some nice pub for its early-adopter Twitter strategy.  But by the time the second season of WPS kicked off in April 2010, it still wasn't clear what the payoff was going to be.  The social strategy was not complemented by an effective marketing mix nationally or at the franchise level.  WPS started to become all Twitter, all the time.  And despite the eye-popping numbers for @womensprosoccer, the individual WPS franchises and their star players toiled in digital obscurity.  All nine clubs had fewer than 5,000 Twitter followers at the start of the 2010 season.  The league's stars had comparable numbers back then – Hope Solo of St. Louis Athletica was near the top with about 4,500 followers.  (During the 2011 Women's World Cup, the USWNT players separated from the pack.  WPS club followings stayed stuck in the low four figures while stars like Solo and Alex Morgan surged into the hundreds of thousands).
Most of the Twitter content was also deathly dull and self-serving.  Teams begged on Twitter for Facebook Likes…so that they could turn around and ask their Facebook fans to follow them on Twitter.  Funny, inspiring and compelling player tweets were lost in an ocean of cautious cliches about team performance or summaries of take out orders from Panera Bread.
Sometime around the spring of 2010 I tweeted to my @BreakersGM followers that I was looking forward to the next breakthrough – the day that WPS fined or suspended a player for a controversial tweet.  Privately, I had two likely suspects in mind.  One was the former USWNT midfielder Natasha Kai who appended vaguely profane, self-consciously outrageous hashtags (#BOOM BAM MADA FAKA, #SEXINACUP) to the most mundane of daily activities, such as going to Starbucks or picking up her laundry.  The other – edgier and more authentic – was Solo, whose competitive process seemed to require the presence of off-the-field adversaries.  Real ones when available, manufactured ones when necessary.
##
The match between the Boston Breakers and the Atlanta Beat at Harvard Stadium on August 4, 2010 never should have been played.
It was an emergency addition to the WPS schedule, added in late May after St. Louis Athletica owner Jeff Cooper defaulted on his payroll and abruptly folded his club in mid-season.  The Breakers were scheduled to play Athletica at home on Saturday, June 5th the week after the team shut down.  A strong (by WPS standards) pre-sale of around 5,000 tickets went up in smoke and the match was cancelled.
The only available date to plug the hole in the schedule was on a Wednesday night in August against the Beat.  The marketing budget was gone.  The game didn't appear on any of our team's printed marketing collateral, produced months before the season.  The Wednesday night date was such a loser, we instructed our sales staff to ignore the game altogether and focus all of their efforts on our remaining weekend dates.  We would have drawn better playing on the moon on New Year's Eve.
It was the smallest crowd in the history of the Breakers – about 1,500 fans.  I announced over 3,200 as an act of impotent vengeance at Jeff Cooper for costing us a 5,000+ paid gate for the cancelled Athletica match.  Among those few who did show up were 20 or so core members of the Breakers supporters group, the Riptide.
##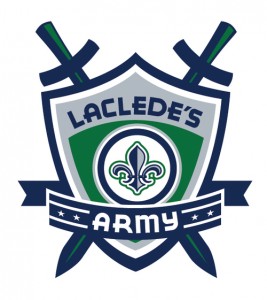 Supporters culture really doesn't exist for women's soccer at the club level.  It's a group sales driven business, with most fans attending only one game a year and no opportunity to follow all of a team's games on TV.  Unlike the USWNT fan base, the core audience of WPS (and WUSA before it) was defined by its casualness, with too little passion and too little knowledge of the game and its players to foster much genuine fanaticism. Turning that argument on its head – there's a strong case that the sport's investors have shown too little staying power to allow deep bonds and fanaticism to take root.
Small independent groups in a few WPS cities tried to change this.  LaClede's Army in St. Louis, Local 134 in Chicago and the Riptide in Boston created dues-paying memberships, established their own websites, and turned WPS matches into day-long parties, starting with tailgating and ending with organized chanting, signing, drumming and opponent-baiting during the matches.
The Riptide were one of the biggest and loudest of these groups.  Most were veterans of the Midnight Riders, the largest supporters group of the New England Revolution in MLS.  Like all supporters groups worth their salt, they were independent of the front office, but I met with them once or twice a year to see what they needed.  We gave them their own standing section, where they could stand and sing for the whole match without having casual fans ask them to sit down.
For their part, they pledged – without me really even asking – to tone down some of the more profane aspects of MLS supporters culture, in recognition of the fact that much of the Breakers audience was families and young girls.  Specifically, they promised that "YSA"  would have no place at Breakers games. YSA is supporters short hand for the You Suck, Asshole chant that accompanies opposing goal kicks at some MLS stadia and has become the symbol of an ongoing identity debate within the men's league.
For all their spirit, the Riptide were small in number – maybe 50 fans in the 8,000 seats we used for Breakers matches.  So at the start of the 2009 season, I hired a Brazilian band director named Marcus Santos and his percussion group Afro Brazil to stand behind the Riptide and augment their sound.  I wasn't sure how they'd get along – Afro Brazil could raise a ruckus and easily drown out the Riptide if they pleased.  But during the very first match, despite some language barriers between the Riptide and some of Marcus' drummers, they learned to coordinate Afro Brazil's beat with the Riptide's chants.
From that first night they were locked in.  The chemistry between the Riptide and Afro Brazil was immediate and powerful.  Fans (and broadcasters) perceived them as one unified supporters group and I was careful to always be coy about that fact that we paid Afro Brazil to be there.  It felt like a joyous, multi-cultural party of professional musicians and soccer fans that organically broke out in Section 15 every night and it created this cool effect that made every Harvard Stadium crowd feel much bigger than it was.
One night in 2009 I was standing on the field with Mark Kastrud, President of the Boston Cannons of Major League Lacrosse, who also played at Harvard Stadium.  He could eyeball-count a crowd as good as anyone.  The Riptide/Afro Brazil were roaring along in full rhythmic fury across the stadium.
"There must be 10,000 people here tonight," Mark said.
The real number was about half that.
##
There were less than a thousand people in Harvard Stadium when the Beat game kicked off that Wednesday night in August.  And it felt like even less because Afro Brazil couldn't make the date on short notice.  Perhaps two dozen Riptide members showed up, standing very much alone in the front two rows of Section 15.  The Revolution played a Mexican team in the semi-finals of the SuperLiga tournament at Gillette Stadium that night, and many of our regulars went to that match instead, since they were also Midnight Riders.  Harvard Stadium was a morgue that night – dead, empty, lifeless.  To use a cliche you could hear a pin drop, let alone a racial epithet screamed.
You can hear the subdued crowd noise on this scouting video, shot from the press box.  At the 0:34 second mark, you get a brief glimpse of a lonely group of about 15 chanting fans standing along behind a banner behind the corner flag.  These are the Riptide supporters at issue in the story, and you will also see the Redbones hospitality tent referenced below.
But if me and my front office team wrote the game off, the Breakers did anything but.  Our English striker Kelly Smith scored on Solo forty seconds into the match to put Boston up 1-0.  She added a second goal in the 62nd minute and the Breakers pressured Solo all night, while Breakers keeper Alyssa Naeher held the Beat scoreless.
During the first half, I sat a few rows behind the Riptide with Alyssa Naeher's dad.  At halftime, the teams changed sides.  Mr. Naeher followed Alyssa to the other side of the field and I descended down to the hospitality tent behind the goal in front of the Riptide and Section 15.  There were a couple of guests who stood out in the tent that night.  2-3 guys who were friends of Hope Solo and were somehow connected to the equipment management or athletic training staff for U.S. Soccer.  They were hard to miss, or rather one guy was.  I really don't know if I can do him justice.  He had this rural meth cook aesthetic going on that was so contrived and over the top that a few of my staff members surmised he came straight to the game from a costume party.  If you were looking for a dude to sell you bad weed in the parking lot of the Oklahoma State Fairgrounds before a Night Ranger concert in 1985, you would make a beeline for this guy's El Camino.
Anyway, I can't remember if he and his crew crashed the VIP tent or if we offered them a courtesy upgrade knowing they were guests of a player, but  it didn't matter.  We had plenty of Redbones barbecue to go around in light of the tiny crowd and I was happy to see them knocking back $8.00 Budweisers at the cash bar to fatten the evening's meager concessions take.
Late in the match, with the game sewn up 2-0 for the Breakers, I wandered down to the other end of the field and struck up a conversation with Fitz Johnson, the owner of the Beat.  The whistle blew while we were talking and the players began their warm down.  After a few minutes, players from both teams started trickling off the field towards autograph alley.  Solo walked over, said a few  pleasantries to Johnson and gave him a quick hug.  He told her "good game" or "keep your head up" or something along those lines, and she casually walked off the field toward the Beat locker room.
##
My post-game ritual was to lock myself in Harvard's hockey rink box office with our banker, a police detail, a case of cold beer and the night's game receipts.  As the other Breakers staff members closed out their areas, they would come by for a cold one, to pick at whatever leftover BBQ was to be had from the VIP tent, and to decompress.  On a good night, the money count might take two hours.  Tonight it took 20 minutes.  The number on the bank deposit slip made me nauseous.  Pass the beer please.
Half an hour after the game, there were still a handful of Breakers players signing autographs outside.  The staff started to trickle in.  A PR assistant twiddled with her iPhone and said:
"Wow.  Hope Solo is blowing up on Twitter right now."
"No kidding?  What's she saying?" I asked.  This is what she was saying:
"To all the Boston fans and especially the young children that I didn't sign autographs for I'm sorry. I will not stand for … An organization who can so blatantly disrespect the athletes that come to play. Perhaps the WPS or Boston themselves … Can finally take a stance to the profanity, racism and crude remarks that are made by their so called 'fan club' … To the true fans, I hope to catch you at the next game. Thanks for your support and love for the game.
Whoa.  The "R" word.  The nuclear option.  Was this the same person I saw amble off the field less than a half hour ago?
"That's crazy.  I just saw her.  Walked right up to Fitz Johnson, gave him a hug and didn't say a word."
##
At first I was perplexed.  I'd been near the Riptide all night.  First sitting in their section for the first half, then down in the VIP tent right in front of them.   I radioed John Cunningham, the Breakers Operations Director and a respected ops guy used by FIFA for tournament work around the globe.  During games John sat at the fourth official's table, right next to the visitors bench.  The Beat bench was about 15-20 yards from the Riptide section and on this night, both the bench and the fourth official's table were within easy earshot of the only 20 people singing and chanting in the nearly empty stadium
John just started laughing in disbelief.  "Are you serious?  I didn't hear anything besides the usual Riptide stuff.  You know, telling her she sucked and chanting "Brianna would have made those saves" at her.
I asked Leslie Osborne, the Breakers Captain, to ask around the locker room.  The Breakers dominated play that night and spent most of the evening in the attacking half.  Whatever Hope heard or experienced during the second half may well have been heard or experienced by some of the 7-8 Breakers who spent most of that half lining up shots at her.  Leslie was stupefied.
"Just ask," I said.
Nothing, Leslie reported 20 minutes later, other than a few "Hope being Hope" comments from the peanut gallery.
By the time I got home after midnight, I was moving from puzzled to pissed.  Because it began to dawn on me that determining the "truth" of this situation was neither possible nor material to what was now happening.    Hope Solo Racism.  There were two ways those words could play out and neither was about any kind of objective truth.  Both were simply exercises in public relations followed to their natural and inevitable conclusions.
And there would have to be some sort of PR process.  The standard solution to WPS problems – relying on the league's cloak of invisibility in the media – didn't work with Solo, because she made headlines.  The story ended up on the Sports Illustrated/CNN website among other high profile outlets.
The first scenario was that Solo would wake up the next morning with a cooler head and admit through a team spokesman that she used a poor choice of words to express her frustration with the match.  And we would basically say "No problem, these things happen."  I sent an email to my buddy Shawn, the GM of the Beat, requesting a formal retraction and copied Fitz Johnson.  I also forwarded the email to the league office, requesting a fine and suspension to Solo for material damage to the Breakers reputation and business if the retraction was not forthcoming.  I wasn't optimistic.
The second scenario was bad.  In this scenario, Hope doubled down in the morning and stuck to her story.  At that point, the Beat organization would have no choice but to back their star.  That's the code.  And the Breakers would have no choice but to issue some sort of carefully worded statement about abhorring racism in all its forms, thus implicitly admitting something must have happened.  Our only option would be to say we were very concerned and would take steps to make sure this – whatever this was – would never happen again.
As the saying goes, you can't prove a negative.  Tom Cruise will always be gay, Barrack Obama will always be Kenyan and Mitt Romney will always be a tax cheat.  Denying you Tweeted a photo of your penis always means you Tweeted a photo of your penis.
##
Hope doubled down.  I got an email from Shawn the next day with Hope's specific allegations.  They were quite detailed. (One of my great WPS regrets is that my computer crashed three days before I left the Breakers in September 2011 and I lost this archival material).   Hope claimed the epithets were aimed primarily at the Beat's Japanese player Mami Yamaguchi, who subbed out 16 minutes into the second half, which was the half when Solo defended the goal in front of the Riptide.  There were a few rather specific and nasty lines attributed to voices from Section 15, including people screaming that Yamaguchi should move back to Japan and go to work in a rice factory.
In addition, there were some racially insensitive remarks allegedly directed at Kia McNeill, a top flight Atlanta defender with local ties as a Boston College grad.
There were also few things that were undoubtedly true and that I heard myself, such as bullet points about our fans yelling "You Suck" at Hope.  That struck me as an oddly wimpy complaint for a player who has played in highly charged stadium atmospheres in world class venues all over the globe (let alone the atmosphere in college soccer), but I can't fault her for being thorough, I suppose.  The strangest accusation was that Hope was pelted with coins from the stands, which would have been easy to detect both during the game and in the post-game clean up of the field.  There was simply nothing to support the projectile claim.
She also had some affidavits from two "fans" supporting her claims.  Her fans, to be specific.  Night Ranger guy and his buddies.  There were also a couple of far more carefully worded comments from – if I recall correctly – Kia McNeill and reserve GK Brett Maron stating that they may have heard some insensitive language coming from the stands.  Yamaguchi herself was curiously absent.
Oh well.   The point wasn't whether it was all true anymore anyway.  The point was Hope was wedded to her story and there was little left but to conduct an investigation and then collaborate with the Beat on the messaging.
The league office more or less told me:  Welcome to our world.  Figure this out with Shawn.  We don't have a role here right now, and they were right.  He said. She said.
##
The Riptide, meanwhile, were in agony.  Because here is one thing you have to understand about club supporters.  They HATE you when you come into their house wearing the colors of another club.  But they LOVE you when you wear the colors of your country and, to a person, the Riptide membership were USWNT superfans who revered Hope Solo as the National Team goalkeeper.
The Riptide were also rude, crude, immature, loud, obnoxious, not as funny as they thought a lot of the time, whiny when calls didn't go their way, occasionally poor winners and often poor losers.  In other words, they were what fans are allowed and encouraged to be in just about every male sport.
One other thing about the Riptide which they never got any credit for in all this nonsense.  They have considerable ability and track record to be self-policing.  As promised to me in 2009, You Suck Asshole never reared its head at a Breakers game and the leaders of the Riptide, on at least one occasion, shushed a newbie who tried to get it going.  Together with Afro Brazil, the supporters of Section 15 were pretty small in number.  But as a group they were multi-racial and multi-lingual.  They featured a considerable number of passionate female fans, along with males.  There were openly gay members.   There was an Asian man in the group.  The notion that this specific group would allow fans within their small ranks to spew hate speech at Asian player (or any other nationality) throughout a match was simply beyond belief.
##
At this point Hope Solo leaves our story.  She lit the match and walked away from the ensuing conflagration, never clarifying her Tweets or mentioning it again for two years until her memoir came out this week.
So what's happens next is that Shawn and I get on the phone.  Now that I have Hope's list of allegations, I promise to undertake an internal investigation, attempting – imperfectly – to leave aside my own proximity and personal recollections to the best of my ability.  It took a couple of days.  I interviewed the Riptide fans in attendance, police detail officers assigned to the match and the 3rd party food service workers in the hospitality tent and Section 15 areas, who worked for outside concessions companies.  I called on various season ticket holders in the adjacent sections and game day volunteers at the field and seating levels.
I can't say I found nothing.  As mentioned above, some of Hope's tamer claims (people saying she sucked) were true – like every night at a Breakers game.  In interviewing the police details, I learned of an incident in the hospitality tent after I left the area late in the match.  A couple of  young men – "appearing intoxicated" – moved over to the wall in front of Section 15 and began acosting the Riptide.  The detail officer in the tent felt it was getting a bit chippy and moved them out of the area.  These were Hope's pals – the Night Ranger rides again.
The most compelling revelation involved Kia McNeill.  McNeill is the lone intersection where the two sides of this story come together, but through very different lenses.  McNeill, as I mentioned, went to Boston College.  She had a great reputation in WPS as a hard-nosed defender and had the yellow and red card accumulations to prove it.  She is also black and she also had family at the game that night, apparently only a section or two over from the Riptide.
At some point, presumably in the second half when Solo was on the Riptide end, McNeill committed a hard foul.  Several Riptide fans yelled out, calling McNeill a "thug" and a "convict".  A couple of Riptide members matter-of-factly recalled this to me and then rattled off various statistics and anecdotes about McNeill's red & yellow card history – hence the "convict" tag – that only a truly obsessive, sports talk radio junkie kind of fan would know about.  And WPS really didn't have that kind of fans….except for these guys.
I'd heard a report that McNeill's family heard comments to this effect at the game and were unhappy about it.  Whether it was because they perceived it as despicable racial stereotyping – black person = convict – or just that it was negative trash talk directed at their daughter, I don't know.  I asked Jackie, a soft-spoken 24-year old graduate student at Brown University and the President of the Riptide, if it occurred to her that fans calling McNeill a "thug" might appear to be racially insensitive.
"I suppose I could see that now, if you didn't know us," she replied.  "But we also call Holmfridur Magnusdottir of the Philadelphia Independence a thug."
Magnusdottir is from Iceland.
I can see where McNeill's teammates would be concerned for her, because the typical atmosphere of a WPS match was so laid back due to the lack of game knowledge of the average fan.  On the other hand, I don't think any NFL fan calling Pittsburgh Steelers linebacker James Harrison – an African-American and one of the league's most physical and heavily penalized players – a thug would cause equal concern and consternation.  It's a tricky thing.  Personally, I think it was an insensitive thing to say.  At the same time, I think the Riptide fans are casualties of a very antiquated notion of how a women's sports fan is expected and allowed to behave.
##
In the end, Shawn and I collaborated on a joint statement that went up on the WPS website.  In it, I acknowledged that insensitive comments appear to have been issued from the stands (re: McNeill, in my mind, not Yamaguchi) and pledging that we would bring on additional security to monitor fan behavior.  The Riptide howled and fumed that we had betrayed them. Understandable.  I felt bad for them.
I asked Shawn for a quote from Hope stating that she regretted using Twitter to raise the issue publicly before addressing her concerns through proper channels.  Shawn told me that was a non-starter – Hope wouldn't say a word.  This was everyone else's mess to clean up now.  Instead the Beat organization itself would say that it was regrettable that Twitter was used as the means of communication for such a serious matter.
I sighed. "Shawn, I hope you understand that we feel like the party that has been attacked here, and yet we are the ones extending much further towards you than you are towards us in solving this thing."
"I get that," he said and that was fine with me.  He was my friend and was in a lousy situation too.
The statement was intended to be the carefully negotiated final word, but neither of us stuck to it.  We couldn't help playing to our constituencies, tiny as they may have been.  A single mercurial superstar in Shawn's case and a couple of dozen season ticket holders in mine.
A couple of days  later Shawn gave interviews to a Georgia newspaper and to the blogger Jeff Kassouf stating that racial epithets had been directed at Yamaguchi (something I categorically rejected) and "giving props" to Solo for standing up for her teammates.  I punched back with a new statement basically saying Hope was full of it, while staying within the rhetorical straitjacket of accepting responsibility so as not to be accused of denial.
Shawn and I hugged it out (metaphorically) the next day, which was made easier by the realization that nobody cared anymore.
Kassouf, another friend, didn't know what to make of it all and just posted our pissing match under the headline "FACTS STILL UNCLEAR BETWEEN ATLANTA, BOSTON…".
Solo signed the next season with Dan Borislow and MagicJack, the only guy still throwing around big bucks contracts in WPS' third and final season.  The Breakers immigration attorney gave me a recommendation to a court reporting service he liked and I planned to hire a stenographer to sit in Section 15 and prepare a transcript of all cheers, chants and songs for Hope's return engagement.  But she never played in Boston again due to National Team duties and a subsequent injury.
Oh well.  Save that idea for next time.
##