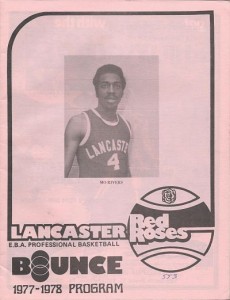 Lancaster (PA) Red Roses vs. Long Island Ducks
April 4, 1978
J.P. McCaskey High School Gym
Eastern Basketball Association Programs
32 pages
A couple of years ago, we acquired a big collection of memorabilia from the old Eastern Basketball Association (1946-1978), a post-war bus league that labored in obscurity in and around Pennsylvania for nearly forty years.  There was this guy – I've long since lost his name and info – who kept emailing me through our e-Bay store wanting to know if any of the material contained a numerical roster for the 1977-78 Long Island Ducks.  The Ducks were a one-year wonder that played just a single season at the old Long Island Arena in Commack during the winter of 1977-78.  This fellow must be one of only a handful who remembered the team, but I had nothing for him at the time.
Today, this 1978 EBA playoff program from the Lancaster (PA) Red Roses arrived in the post office box and – lo and behold – it was for a game against the Ducks and contained a numerical roster.  So – if you're still out there, Ducks fan – this post is for you.  And here is the Ducks 1977-78 numerical roster for you.
Interesting thing about the Ducks name – it is something of a fetish in Long Island.  The basketball Ducks were owned by Al Baron, who seemingly named the team in a fit of nostalgia for his old hockey team, the Long Island Ducks (1959-1973) of the Eastern Hockey League who also played at Long Island Arena in their day.  Baron not only owned the hockey Ducks, but he called their games over the radio.  In a wonderful 1969 Sports Illustrated profile, Baron toldSI's Dan Levin: "This is the only rink in organized hockey where the players stand on the ice and watch the fights in the stands."
Unlike the hockey Ducks, who were an institution on Long Island for fourteen seasons, the basketball Ducks vanished after a single winter of play.  In the summer of 2000 Frank Boulton and Bud Harrelson launched the Long Island Ducks of the independent Atlantic League of Professional Baseball.  The baseball Ducks have proven to be remarkably popular, averaging nearly sellout crowds for over a decade in Central Islip.
Downloads:
1977-78 Long Island Ducks Roster