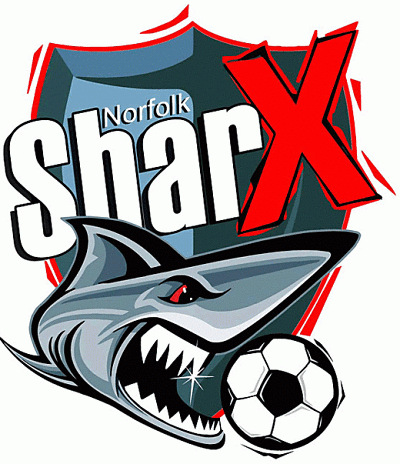 Major Indoor Soccer League (2011-2012)
Born: January 25, 2011 – USL I-League expansion franchise.
Folded: June 25, 2012
Arena: The Norfolk Scope
Team Colors:
Owner: Marcie Laumann
MISL Championships: None
The Norfolk SharX were a failed pro indoor soccer entry in the Major Indoor Soccer League.  The SharX limped through a single season of play before folding due to financial problems.
The SharX originated as an expansion franchise in a planned new pro indoor league called the "I-League", organized by the United Soccer Leagues (USL).   The USL was a long-time player in amateur and low-level professional soccer in the United States, serving as an umbrella organization for various men's and women's leagues.  The frontwoman for the SharX ownership group was Marcie Laumann, the veteran operator of the Hampton Roads Piranhas women's amateur side in the USL, and a member of the USL's Hall of Fame.  Laumann announce the formation of the SharX in January 2011.
By May of 2011, the I-League attracted only three committed franchises: the SharX, the Rochester Lancers and the Syracuse Silver Knights.  Meanwhile, the long-running Major Indoor Soccer League (MISL) was floundering with only four clubs.  The two leagues agreed to merge with the USL taking over administration of the beleaguered MISL for the 2011-12 season.   The MISL identity was retained by the merged loop and the "I-League" name was scrapped.
The SharX never found their footing either on the carpet or with local fans.  They finished the 2011-12 season with the worst record (5-19) in the MISL and the lousiest attendance (1,596 per game announced).
The team folded after a single season of play on June 25, 2012 citing "economic hardship".
Norfolk SharX Video
2011 Norfolk SharX introductory press conference
Links
Indoor Soccer 2001-Present Media Guides
Indoor Soccer 2001-Present Programs
###