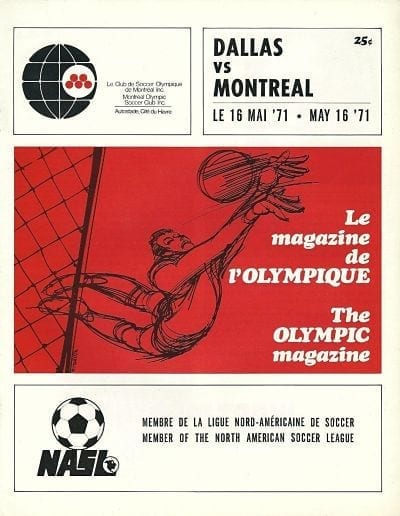 North American Soccer League (1971-1973)
Born: 1971 – NASL expansion franchise
Folded: 1973
Stadium: Autostade
Team Colors:
Ownership:
NASL Championships: None
Montreal Olympique was a pro soccer outfit that competed briefly in the North American Soccer League in the early 1970's. The team shared the Autostade, a 33,000-seat oval built for Expo 67, with the Montreal Alouettes of the Canadian Football League.
Olympique was a bust on the field and at the box office. The team compiled a 13-30-14 record over three seasons and averaged barely 3,000 fans per match.
Future Liverpool and Scottish National Team captain Graeme Souness played 10 games for Olympique as a 19-year old during the 1972 season.
Pro soccer and the NASL returned to Montreal in 1981 with the formation of the Montreal Manic (1981-1983).
Montreal Olympique Shop

Olympique Retro T-Shirt by Ultras
Ian Plenderleith's Definitive Account of "The Short Life & Fast Times of the North American Soccer League"
Montreal Olympique Programs
Links
North American Soccer League Media Guides
North American Soccer League Programs
###