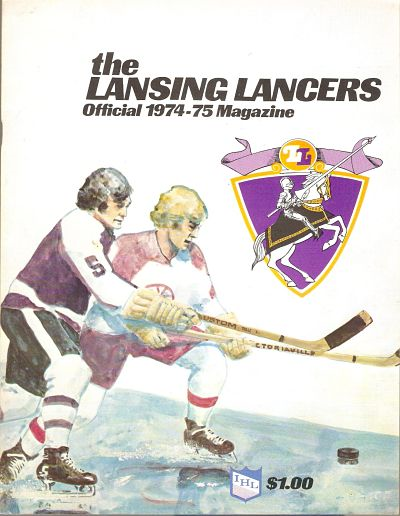 International Hockey League (1974-1975)
Born: May 10, 1974 – The Toledo Hornets relocate to Lansing, MI.
Folded: January 15, 1975
Arena: Metro Ice Arena (900)
Team Colors:
Owner: Paul Bright
Turner Cup Championships: None
In May of 1974, Toledo Hornets (1970-1974) owner Paul Bright gave up on the city of Toledo and moved his International Hockey League franchise to Lansing, Michigan.  Renamed the Lansing Lancers, the club's new home would be Lansing's brand new Metro Ice Arena.  But financial issues left the Arena unfinished and the seating capacity was curtailed to just 900 seats.
The Lancers wouldn't even need that many.  By midseason, the Lancers were in deep distress, playing before a near-empty stands and contemplating a midseason move to Grand Rapids.  When Bright's fellow IHL owners refused to approve the midseason shift to Grand Rapids, the club folded on January 15, 1975, having played just 41 games out of a planned 75-game regular season.  The Lancers' final record was 12-28-1.
The Lancers were the first IHL in 20 years to fail to complete a season.  Pro hockey has never returned to Lansing.
No Lansing players ever skated in the NHL.  Two Lancers, John Gravel and Terry Ryan, played one season each in the major league World Hockey Association.
Links
International Hockey League Media Guides
International Hockey League Programs
Lansing Lancers All-Time Roster on HockeyDB.com
##