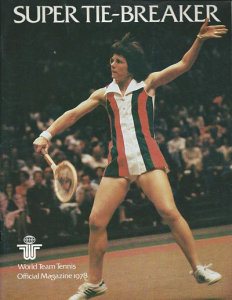 Boston Lobsters vs. New York Apples
1978 World Team Tennis Championship Series
September 13, 1978
Walter Brown Arena
Attendance:
World Team Tennis Programs
112 pages
We recently unearthed this great little collection of material from the final days of World Team Tennis (1974-1978) in Wakefield, Massachusetts.  This collector had a "Super Tie-Breaker" game program from the 1978 WTT playoff best-of-five Championship Series between Robert Kraft's Boston Lobsters and Dr. Jerry Buss' Los Angeles Strings.  Billie Jean King, league co-founder and star of the New York Apples franchise, is pictured on the cover.
In addition, he had saved a complete set of game notes, a ticket stub, and a few Lobsters promotional flyers for the playoff series.  The series began in Boston at the Walter Brown Arena on the campus of Boston University.  And this truly was an attractive promotion for local tennis fans.  The Lobsters featured 1978 Wimbledon champion Martina Navratilova.  The Strings had the unpredictable, profane and always entertaining player-coach Ilie Nastase and the young American superstar Chris Evert, who had won the women's singles title at the U.S. Open just one week before this playoff series opened.
The Navratilova-Evert rivalry was just burgeoning and would go on to become the dominant storyline of women's tennis in the early-mid 1980's.  Unfortunately for Boston tennis lovers, Navratilova injured her shoulder during the U.S. Open and could not participate in either of the first two Championship Series dates in Boston.  She was inadequately replaced by 19-year Anne Smith, who was no match for Evert in either match.
The series moved back to Los Angeles for a potentially deciding Game Three on September 19, 1978.  A Strings record crowd of 10,366 was on hand.  Navratilova played through her tendinitis and gutted out a 7-5 women's singles set over Evert.  Anne Smith and Lobsters player-coach Roy Emerson defeated Nastase and Ann Kiyomura in the deciding mixed doubles match, keeping the Lobsters alive and forcing a Game Four.  But the Strings put the series away in Game Four two nights later, earning the fifth and final championship of World Team Tennis before a Forum crowd of 7,154.
##
One month later, Robert Kraft folded the Lobsters on the same day that New York Apples owner Sol Berg folded his club.  Buss followed two weeks later, shutting down the Strings in early November 1978, despite setting a league attendance record and winning the league championship.  The entire league was more or less kaput by Thanksgiving, ending one of the quirkier professional sports experiments of the 1970's.
Billie Jean King was still sold on the concept of Team Tennis and revived the league in 1981.  It continues to play today, although in much smaller country club venues (compared to the big NBA and NHL arenas of the 1970's league) and with much less media coverage.
==Downloads==
September 13, 1978 Boston Lobsters Game Notes – World Team Tennis Championship Series
1978 Boston Lobsters Playoff Ticket Sales Flyer
1978 Boston Lobsters Media Guide
==Downloads==
##
###