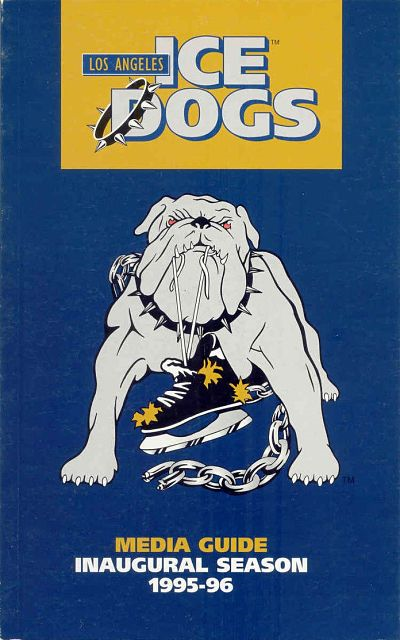 International Hockey League (1995-1996)
Born: 1995 – The San Diego Gulls relocate to Los Angeles.
Moved: 1996 (Long Beach Ice Dogs)
Arena: Los Angeles Memorial Sports Arena (14,587)
Team Colors:
Owners:
Los Angeles was a one-year port of call for the nomadic Gulls/Ice Dogs minor league franchise that drifted around Southern California for the better part of two decades.
The franchise originated in 1990 as the expansion San Diego Gulls of the International Hockey League.  By early 1995, Gulls attendance in San Diego had dipped to 16th in the 17-team IHL.  Midway through the 1994-95 season, team owner Fred Comrie announced that his team would move to the Los Angeles Memorial Sports Arena for the 1995-96 season and would leave the "Gulls" identity behind in San Diego, where the name had historic hockey roots.
Comrie's club re-branded as the Los Angeles Ice Dogs after the move north.  But despite the new identity, Comrie was still stuck with an outdated building in L.A., just as he had been in San Diego.  And now he had to compete head-to-head for fans and attention with the NHL's Los Angeles Kings in a city that had always been lukewarm on hockey in the first place.  Attendance fell even further after the move to Los Angeles and after just two months of play, Comrie was ready to throw in the towel.
In December 1995, TV producer Barry Kemp ("Coach", among other sitcom hits) bought the Ice Dogs from Fred Comrie for a rumored $5 million.  Kemp immediately announced plans to move the club to nearby Long Beach for the 1996-97, but the Ice Dogs would play out the 1995-96 IHL campaign as lame ducks in L.A.  (Kemp ultimately lost an estimated $15 million on Ice Dogs hockey over ten seasons, according to The Long Beach Press-Telegram).
On the ice, the 1995-96 season didn't go any better for the Ice Dogs.  Although reasonably competitive under Head Coach John Van Boxmeer at 32-36-14, the Dogs finished last in the South Division and thus were left out of the IHL's absurdly inclusive postseason format, which saw 16 out of 19 clubs make the playoffs.  John Byce led the team in scoring with 39 goals and Dan Lambert was the overall scoring leader with 87 points.
The Ice Dogs averaged 3,310 fans per game during their only season in Los Angeles.  After the move to Long Beach in 1996, the Ice Dogs survived eleven more seasons before going out of business in April 2007.
Los Angeles Ice Dogs Memorabilia
Links
International Hockey League Media Guides
International Hockey League Programs
Los Angeles Ice Dogs All-Time Roster on HockeyDB.com
##