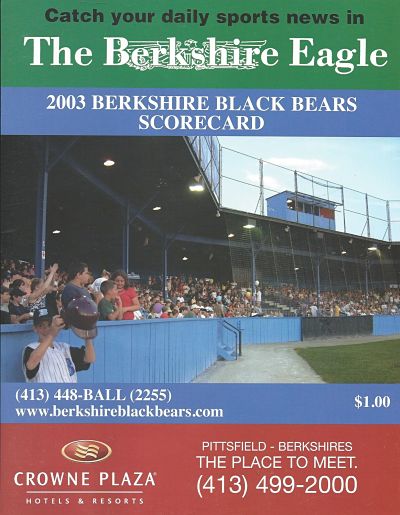 Northern League (2002-2003)
Born: October 2001 – The Massachusetts Mad Dogs relocate to Pittsfield, MA
Moved: December 2003 (New Haven County Cutters)
Stadium: Wahconah Park
Major League Affiliation: Independent
Owner: Jonathan Fleisig
Northern League Championships: None
The Berkshire Black Bears were an abortive effort to establish independent professional baseball at historic Wahconah Park in Pittsfield, Massachusetts.  The Northern League club arrived in Pittsfield close on the heels of the departing Pittsfield Astros of the Major League-affiliated New York-Penn League.
Former Boston Red Sox slugger George "Boomer" Scott managed the Black Bears in the first season in 2002. Scott had a history in Pittsfield. As a 21-year old prospect in 1965, he won the Eastern League triple crown in 1965 with the Pittsfield Red Sox. His managerial tenure would not be as successful. The Black Bears finished in last place with a 24-65 record in 2002. Scott was dismissed at the end of the season.
The team improved only marginally in 2003 under new field manager Darren Bush. The Black Bears 41-51 record left them outside the playoffs once again.
The Black Bears moved to New Haven, Connecticut in December 2003. The franchise eventually folded once and for all in October 2007 after four seasons in Connecticut.
Berkshire Black Bears Shop
Foul Ball: My Fight to Save an Old Ballpark by Jim Bouton
Downloads
May 2002 Black Bear News Program Insert
Links
##