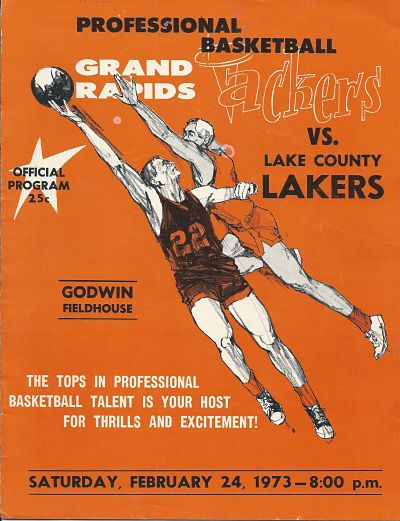 Midwest Professional Basketball League (1961-1964)
North American Basketball League (1964-1968)
Continental Basketball Association (1969-1970)
Born: 1961
Folded: 1974?
Arenas:
Team Colors:
Owners: Albert S. Maine?
CBA Champions: 1973 & 1974
The Grand Rapids Tackers were a locally popular club that played in various semi-pro basketball leagues in the Midwest between 1961 and 1974.
Former University of Toledo star Steve Mix played for the Tackers during the winter of 1972-73 after his pro career initially sputtered with the NBA's Detroit Pistons and ABA's Denver Rockets.  After averaging 31.1 points per game with the Tackers in 1972-73, Mix revived his career and went on to play another 10 seasons in the NBA, mostly with the Philadelphia 76ers.
Little information about the Tackers has survived into the internet age. I believe the team owner during the 1970's was a fellow named Albert S. Maine. We would also like to know if the team played in other gyms besides the Godwin Fieldhouse. If you can share memories or info on this club, please leave it in the comments of this post.
##