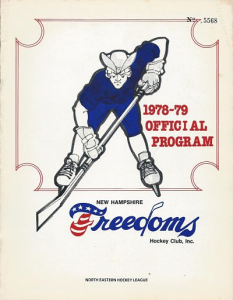 Northeastern Hockey League (1978-1979)
Born: September 4, 1978 – NEHL founding franchise.
Died:  1979 – Freedoms relocate to Richmond, VA.
Arenas:
Team Colors: Red, White & Blue
Owner: Sandy Reiss
The Freedoms were a low-level minor league hockey club in the Northeastern Hockey League for one winter, which was split between the team's original home in New Hampshire and the Cape Cod Coliseum in Massachusetts, where the team fled six weeks into the season.
The club was formed on Labor Day 1978, giving the organization just under two months to prepare for a late October debut.  The New Hampshire Freedoms planned to split home dates between two small rinks – Everett Arena in Concord and the JFK Coliseum in Manchester.
The Freedoms had affiliation agreements with the Boston Bruins and Montreal Canadiens of the NHL, but most of the club's players were first-year pros, recently out of American colleges.  Two exceptions were 35-year old player-coach John Cunniff and goaltenderCap Raeder.  Both were veterans of the New England Whalers of the World Hockey Association.  Cunniff led the Freedoms in scoring with 40 goals and 78 assists in 67 games.
The team drew poorly in New Hampshire.  In Concord, the Freedoms averaged 552 fans per game and the numbers were hardly better in Manchester at 665 on average.  On December 14, 1978, owner Sandy Reiss announced the team was departing immediately for the Cape Cod Coliseum to finish out the season as the Cape Cod Freedoms.
The Freedoms finished their only season 33-36-1.  Owner Sandy Reiss moved the club out of Cape Cod to Richmond, Virginia for the 1979-80 season, where the franchise became the Richmond Rifles in the re-named Eastern Hockey League in the fall of 1979.
Freedoms coach John Cunniff later became a Head Coach in the NHL with the Hartford Whalers (1982-83) and the New Jersey Devils (1989-1991).
==In Memoriam==
Former Freedoms player-coach John Cunniff died of cancer at age 57 on May 10, 2002.  He was inducted in to the United States Hockey Hall of Fame the following year.
##