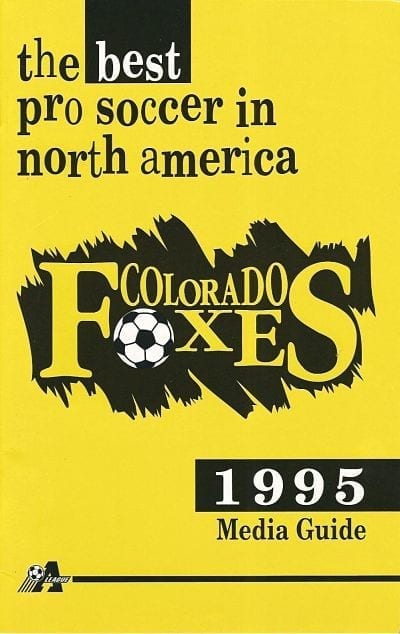 American Professional Soccer League (1990-1994)
A-League (1995-1996)
USISL A-League (1997)
Born: 1990 – APSL expansion franchise.
Moved: 1998 (San Diego Flash)
Stadiums:
Team Colors: Yellow & Black
Owner: Martin Nixdorf
APSL Champions: 1992 and 1993
The Colorado Foxes were at outdoor soccer club active for most of the 1990's in the Denver region.  During their early years, the Foxes competed at the highest level of outdoor soccer played in the United States.  But the semi-anonymous American Professional Soccer League (later re-named the 'A-League') still fell something short of a true Division I organization.   The Foxes won back-to-back championships in the APSL in 1992 and 1993.
When the United States won the bid to host the 1994 World Cup, one of FIFA's demands was that the Americans finally create a proper Division I league to replace the old North American Soccer League which had folded a decade earlier in 1985.  The APSL made a bid to become that league, but they were rejected in favor of a proposal for a new league, which would become Major League Soccer in 1996.
Major League Soccer awarded one of its 10 original franchises to Denver in 1995.  This posed a mortal threat to the Foxes, who were playing to average crowds of less than 6,000 in gargantuan Mile High Stadium at the time.  MLS' Colorado Rapids club moved into Mile High Stadium in 1996, while the Foxes moved into the smaller renovated Mile High Greyhound Track in Commerce City.  The Foxes' German owner Martin Nixdorf elected to compete with the Rapids head-to-head for two seasons, but by the end of 1997 the writing was clearly on the wall for the now 2nd Division club.  The Foxes moved to Southern California in 1998 and became the San Diego Flash.
==Links==
"Still Kicking", T.R Witcher, Denver Westword, June 6, 1996
APSL & A-League Media Guides
APSL & League Programs
##