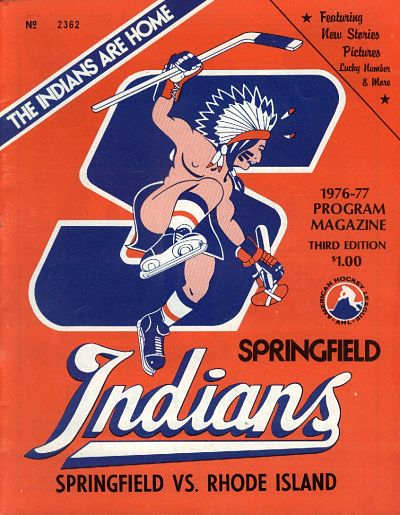 Canadian-American Hockey League (1926-1933 & 1935-1936)
American Hockey League (1936-1942 & 1946-1951)
Eastern Hockey League (1951-1953)
Quebec Hockey League (1953-1954)
American Hockey League (1954-1967 & 1975-1994)
Born: 1926 – Can-Am League founding franchise.
Moved: 1994 (Worcester IceCats)
Arenas:
Team Colors:
????-1990: Blue, Orange & White
1990-1994: Green, Blue & White
Team Owners:
"Well I wanna win it clean. Old time hockey. Like when I got started, ya know? Jesus, Toe Blake, Dit Clapper, Eddie Shore…those guys were the greats." – Reggie Dunlop (Paul Newman), Slap Shot, 1977
The Springfield Indians were one of the iconic names in all of minor league hockey.  The club operated, in various leagues, for the better part of eight decades in the Western Massachusetts city of Springfield.  The towering figure who loomed over the team for nearly fifty years was a man named Eddie Shore.
There were several iterations of the Indians. The original club played in the Canadian-American Hockey League from 1926 until a midseason collapse thirteen games into the 1933 season.
==Slideshow==
==Springfield Indians Programs on Fun While It Lasted==
==YouTube==
Blood & Guts: The Eddie Shore Story.
==Links==
American Hockey League Media Guides
American Hockey League Programs
###