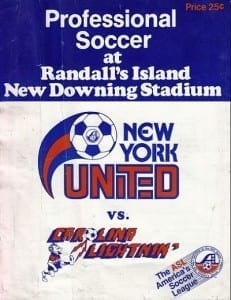 American Soccer League (1980-1981)
Born: 1980 – The New York Apollo are re-branded as New York United
Folded: Postseason 1981
Stadiums: 
Team Colors:
Owners: 
ASL Championships: None
New York United were a men's 2nd Division soccer club that played in the American Soccer League in 1980 and 1981.  The club previously played in Long Island from 1973 until 1979 where it was known as New York Apollo.  New ownership bought the team in 1980 and tried to make a splash by signing former Manchester City star Rodney Marsh as Manager and moving into Shea Stadium in Queens.
United was successful on the field in 1980, posting a 17-11 mark and making the ASL playoffs.  This despite the fact that Marsh resigned midway through the season in a dispute with management. United fell to the Pennsylvania Stoners in the semi-final round.
At the box office though, the team was a bust. Tiny crowds at Shea led the team to cut costs and move into run-down Downing Stadium on Randall's Island for the 1981 season.  Marsh left the team to coach the rival Carolina Lightnin'.  The team re-organized under new coach Jimmy McGeough, who had previously managed the team during the Apollo era.  Under McGeough, United posted a league best 19-5-4 record in 1981.  That should have earned United home field attendance for the playoffs.  But the team's dismal fan support in New York led the ASL to move the September 18th, 1981 championship match to American League Memorial Stadium in Charlotte, home of Marsh's Carolina Lightnin'.
Before a league-record crowd of 20,163, United's Solomon Hilton gave the visitors a 1-0 lead in the 64th minute.  But Carolina equalized in the 69th minute and the Lightnin' snatched the game away in the 2nd overtime period to seal the ASL crown.  This turned out to be the final match that United every played as the club folded during the offseason that followed. The ASL went out of business two years later following the 1983 season.
New York United Shop
American Soccer League Logo T-Shirt by Ultras

Shea Stadium Retro T-Shirt by Throwback Max
New York United Memorabilia
Downloads
1980 New York United Media Guide
May 13, 1980 New York United Press Release – "United to Open at Shea on Sunday!"
August 10, 1980 New York United vs. National Team of Ecuador Program
October 1980 New York United Central American Tour Press Releases
Links
American Soccer League Media Guides
American Soccer League Programs
##