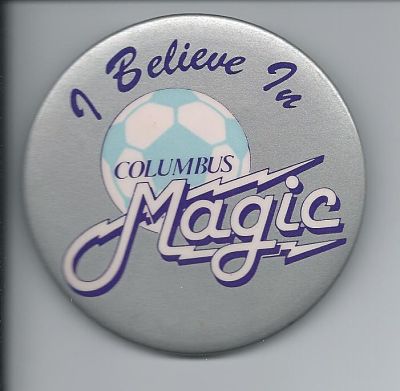 American Soccer League (1979-1980)
Born: 1979 – ASL expansion franchise
Folded: 1980
Stadium: Franklin County Stadium
Team Colors:
Owner: Ted Celeste, et al.
ASL Championships: None
The Columbus Magic were a short-lived 2nd Division pro soccer club that played for two seasons in 1979 and 1980. The club played at a minor league baseball stadium that it shared during the summer with the top farm club of the New York Yankees.
The Magic were terrific during their expansion season of 1979. They won the American Soccer League's Eastern Division with a 17-8-3 record. Ron Wigg was the team's leading scorer with 13 goals. The Magic hosted the ASL championship game against the Sacramento Gold on September 16, 1979 at Franklin County Stadium. 9,378 fans showed up, but went home disappointed after the league's leading scorer, Ian Filby, scored the only goal of the match for Sacramento in the second half.
The Magic ran into financial headwinds during the second season in 1980 and folded quietly at the end of the season.
Columbus Magic Shop
Magic Retro T-Shirt by Throwback Max
Columbus Magic Memorabilia
Links
American Soccer League Media Guides
American Soccer League Programs
###