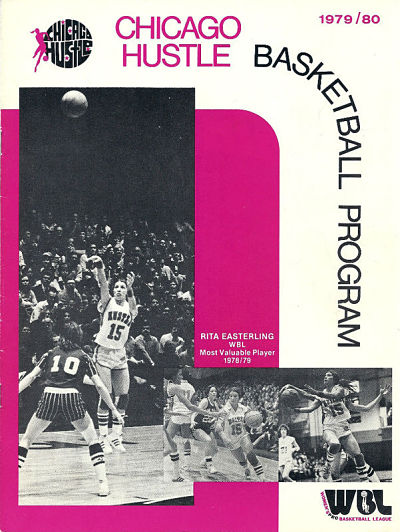 Women's Professional Basketball League (1978-1981)
Born: June 18, 1978 – WPBL founding franchise
Folded: Postseason 1981
Arena: Alumni Hall (5,300)
Team Colors:
Owners: Sherwin Fischer, Lawrence Cooper & John Geraty
WPBL Championships: None
The Chicago Hustle were the finest operation in the Women's Professional Basketball League, the first attempt to start a nationwide pro sports league for women. Bill Byrne, a former front office worker for the Chicago Fire of the World Football League, cooked up the idea for the league in late 1977. Byrne began selling franchises for $50,000 each and reached out to an enthusiastic but cash-poor Chicago sports promoter named John Geraty. Geraty, in turn, recruited the team's financial backers, attorney Larry Cooper and personnel firm owner Sherwin Fischer, and the group purchased the WBL's fourth franchise in June 1978. Long-time Cubs and White Sox PR exec Chuck Shriver signed on as General Manager and brought a level of promotional sophistication that would prove sorely lacking in the rest of the 9-team league.
Center Sue Digitale, forwards Liz Galloway and Debra Waddy-Rossow and guards Rita Easterling and Janie Fincher formed the starting five during the Hustle's first season in the winter of 1978-79. The team played an aggressive, fast-breaking style under former DePaul women's coach Doug Bruno. The 5′ 6″ Easterling, described by The Chicago Tribune's Bill Jauss as "a combination of Jerry Sloan and Norm Van Lier" won league MVP honors. Chuck Shriver landed a TV contract with cable superstation WGN. The team passed out free Dr. Peppers to the 2,000+ regulars at DePaul's Alumni Hall whenever the Hustle scored over 110 points at home. The Hustle triggered the promotion nearly a dozen times that first winter.
Liz Galloway – Forward (1978-1980)
"We had WGN television coverage. My family was able to watch all the way back in Texas. Great local coverage in The Sun-Times and The Tribune. We were treated like the other male sports teams. I met Ernie Banks and Walter Payton. Iowa had a great following too, but we had the best fans hands down! They gave us nicknames and wore shirts to support us, traveled to games all over the league.
More coming soon….
Chicago Hustle Shop
Mad Seasons: The Story of the First Women's Professional Basketball League 1978-1981 by Karra Porter
Chicago Hustle Memorabilia
Downloads
1981 Chicago Hustle Public Stock Offering
1979-80 Chicago Hustle Advertising Rate Card & Contract
1978-79 Women's Professional Basketball League Brochure
Links
Women's Professional Basketball League Media Guides
Women's Professional Basketball League Programs
###