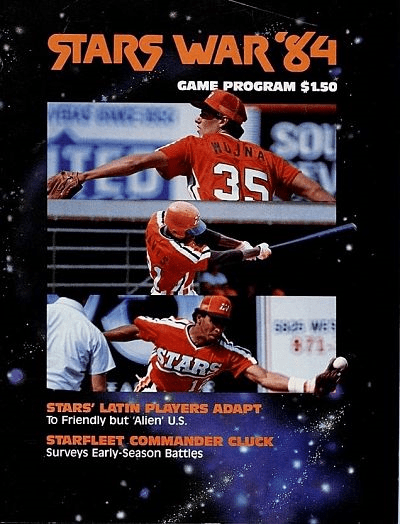 Pacific Coast League (1983-2000)
Born: September 1982 – The Spokane Indians relocate to Las Vegas.
Re-Branded: December 2000 (Las Vegas Area 51s)
Stadium: Cashman Field
Team Colors:
Owners:
The Las Vegas Stars were the long-time Class AAA farm club of the San Diego Padres, serving as that team's top minor league affiliate from 1983 until 2000.  The franchise – still active today – traces its history all the way back to 1919 when it entered the Pacific Coast League as the Portland Beavers.  After an interlude in Spokane, Washington in the 1970's, the ball club relocated to Las Vegas in September 1982.  The move marked the return of pro baseball to Las Vegas for the first time since the demise of the California League's Las Vegas Wranglers in 1958.
The Stars' glory years came during the 1980's when the Padres' farm system was stocked with future Major League All-Stars.  The first Stars squad in 1983 posted an 83-60 record, which would turn out to be the best in the club's 18 seasons as a Padres farm club. Kevin McReynolds had a monster season, winning the 1983 Pacific Coast League MVP award with a .377 average, 32 homers and 116 RBIs.
In 1986 the Stars won their first Pacific Coast League title, defeating the Vancouver Canadians 3 games to 2 in the championship series. First baseman Tim Pyznarski won PCL MVP honors.  Larry Bowa managed the club.
In 1988 the Stars won their second and final PCL crown, once again besting Vancouver in the championship.  Catcher Sandy Alomar Jr. won the first of his back-to-back PCL Most Valuable Player awards that summer. Future Hall-of-Famer Roberto Alomar, Sandy's younger brother, also played briefly for the Stars in the summer of 1988.
In 1992 original team owner Larry Koentopp and his partners, who moved with the club from Spokane, sold the Stars to Hank and Ken Stickney for an estimated $7.0 million. The Los Angeles Times called it the richest sum ever paid for a minor league baseball team at the time.  The Stickneys also owned the city's pro hockey team, the Las Vegas Thunder, from 1993 to 1999.
The 1990's were a fallow period for the Stars as the team was unable to repeat its on field successes of the previous decade.  Tragedy hit in May 1996 when veteran infielder Mike Sharperson died in a one-car accident while driving home from Cashman Field.  The 34-year old learned that he had earned a call-up to the Padres just hours earlier.
In December 2000, team operator Mandalay Entertainment re-branded the ball club as the "Las Vegas Area 51s", in a cheeky nod to the U.S. government's top secret Nevada facility that reputedly is packed to the rafters with dead and captured extra-terrestrials.  The 18-year relationship with the Padres came to an end at the same time and the Area 51s began play in the PCL as a Los Angeles Dodgers affiliate in April 2001.
==Slideshow==
==Links==
Pacific Coast League Media Guides
###