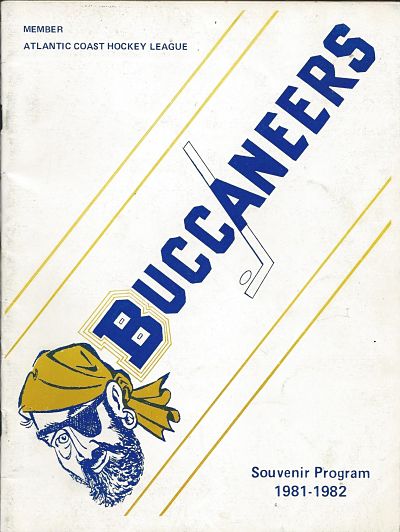 Atlantic Coast Hockey League (1981-1982)
Born: 1981 – ACHL founding franchise
Folded: February 1, 1982
Arena: Cape Cod Coliseum (4,946)
Team Colors:
Owner: Vince McMahon
ACHL Championships: None
The Cape Cod Buccaneers were the first team sports venture for World Wrestling Entertainment impresario Vince McMahon back in the winter of 1981-82. McMahon held the lease on the Cape Cod Coliseum at the time, where he staged a number of wrestling promotions. He formed the Bucs in the summer of 1981 and entered the team in the newly formed Atlantic Coast Hockey League (ACHL). Three previous Cape pro hockey ventures – the Cubs, Codders and Freedoms – failed at the Coliseum during the previous decade.
In early 1982, the legendary Philadelphia Flyers enforcer Dave Schultz published a memoir, Hammer: Confessions of a Hockey Enforcer with Stan Fischler. Schultz held the NHL records for most penalty minutes in a season (1974-75) and in a career. Schultz's book and the accompanying media campaign repudiated violence in hockey. In an effort to hype the book, Schultz struck a deal to suit up for the Cape Cod Buccaneers for a February 6th, 1982 ACHL contest against the Winston-Salem Thunderbirds at the Cape Cod Coliseum.
The Schultz appearance on the Cape never came to pass. ACHL franchises were dropping like flies. In late January 1982, the league put forward a plan to cancel the remained of the regular season and move directly to a hastily organized playoff tournament. The Buccaneers' record stood at 17-21-1. Vince McMahon objected to the plan and folded the team on February 1st, 1982.
Pro hockey never returned to Cape Cod. The Coliseum closed its doors in 1984 and was converted to a warehouse.
Links
Streaker Sports has sells a retro Cape Cod Buccaneers t-shirt on their website here
##