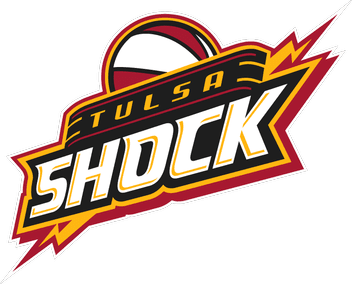 Women's National Basketball Association (2010-2015)
Born: October 20, 2009 – The Detroit Shock relocate to Tulsa, OK.
Died: July 23, 2015 – WNBA approves move of the Shock to Dallas-Ft. Worth in 2016.
Arena: BOK Center (7,479)
Team Colors: Yellow, Black & Red
Owners: Bill Cameron, David Box, Sam Combs III, et al.
WNBA Championships: None
The Tulsa Shock were a reliably terrible WNBA punching bag for the better part of six seasons.  The Shock finished in last place in four of their first five summers in Tulsa, crowned by a majestically awful 2011 campaign (3 wins, 31 losses) that ranks as one of the most miserable pro basketball seasons of all time.
The 2015 season looked to be more of the same. Two-time All-Star Glory Johnson would miss the season due to pregnancy.  Then All-Star guard Skylar Diggins went down with a season-ending ACL tear in late June.  But the Shock finally rewarded its small, long-suffering fan base with an 18-16 campaign and first-ever WNBA playoff appearance. Fittingly, Shock majority owner Bill Cameron announced midway through the season that his now-competent team would move to Dallas in 2016.
The Shock made their final appearance in Tulsa on September 19, 2015, losing the second and deciding game of their 1st round playoff series against Phoenix Mercury before a small crowd of 3,261 at the BOK center.
The Storm featured a handful of intriguing players during their 6-year run in Tulsa. In March 2010, the team signed disgraced former track & field star Marion Jones to a league-minimum contract. Jones famously won five medals (including three Golds) at the 2000 Sydney Olympics but stripped of her medals years later by the IOC after admitting to steroid use.  The 34-year old Jones played for the University of North Carolina's NCAA champion women's basketball team in 1994 but hadn't played competitive basketball in over a decade by the time she signed with Tulsa. Jones would spend parts of two seasons with the Shock without making much impact. She was released by the club in July 2011.
In 2011, 40-year old Sheryl Swoopes made a comeback with the Shock after a two-year retirement. A legend of the women's game, Swoopes was the first player to sign a WNBA contract when the league debuted in 1997. She averaged 8.2 pts in 33 games for Tulsa during the Shock's infamous 3-31 season. Swoopes' Shock highlight came on August 26, 2011 when she nailed a buzzer-beater against the Los Angeles Sparks to end Tulsa's league record 20-game losing streak.
==YouTube==
The Shock host the Minnesota Lynx at the BOK Center on July 19, 2015 (full game). The following day, Shock majority Bill Cameron would announce the team's planned move to Dallas-Ft. Worth for the 2016 season.
==Downloads==
==Links==
"Can The Tulsa Shock Become The Worst Pro Basketball Team Ever?", Emma Carmichael, Deadspin, August 26, 2011
Women's National Basketball Association Media Guides
Women's National Basketball Association Programs
##