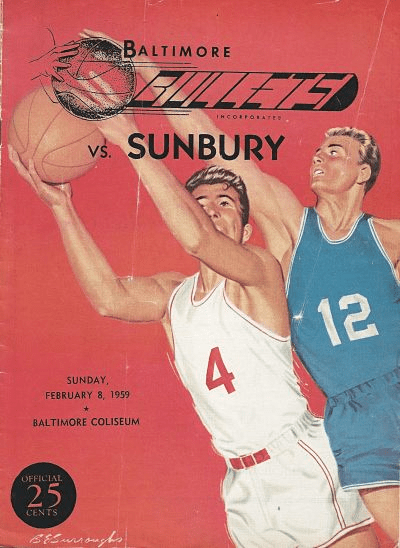 Eastern Professional Basketball League (1958-1961)
Born: 1958
Moved: Postseason 1961 (Camden Bullets)
Arena: Baltimore Coliseum
Team Colors:
Owners:
Eastern League Champions: 1961
This minor league edition of the Baltimore Bullets basketball team is not to be confused with Baltimore's two NBA versions of the Bullets (1944-1954 and 1963-1973).
The Bullets of 1958-1961 played in the Eastern Professional Basketball League and were the only non-Pennsylvania team in the league during this period.  The Bullets made it to the Eastern League championship in two of their three seasons.  In 1960, the Bullets lost a best 2-of-3 series to the Easton Madisons.  The following season, the Bullets defeated the Allentown Jets 119-104 in a single-game championship contest.
After the 1960-61 season, the Bullets moved to New Jersey and became the Camden Bullets (1961-1966).
==Baltimore Bullets Programs on Fun While It Lasted==
Season

Date
Opponent
Score
Program
Other

1958-59

1958-59
2/8/1959
vs. Sunbury Mercuries
??
Program
Game Notes
==Links==
Eastern Professional Basketball League Programs
###