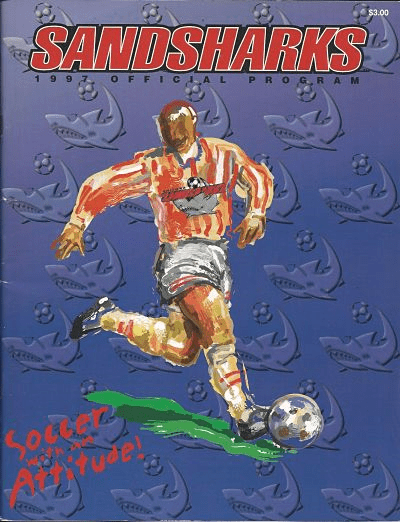 Continental Indoor Soccer League (1993-1995, 1997)
Born: August 3, 1992 – CISL founding franchise
Folded: December 23, 1997
Arena: America West Arena (15,505)
Team Colors: Red, Silver & Black
Owners:
CISL Championships: None
The Arizona Sandsharks were an indoor soccer team that played four summertime seasons in the now-defunct Continental Indoor Soccer League during the mid-1990's.
The 'Sharks were originally formed by Phoenix sports mogul Jerry Colangelo in August 1992, to begin play with the CISL's debut the following summer.  Colangelo owned the NBA's Phoenix Suns in 1992 and would soon win the expansion rights to the Arizona Diamondbacks of Major League Baseball.  He was also one of the key backers of the 15,000-seat America West Arena that opened in Phoenix in 1992.  With the arrival of the Arena, Colangelo assembled a stable of second-tier sports franchises to fill the dates in the building, launching the Sandsharks, the Arizona Rattlers of the Arena Football League, and the Phoenix Smash of World Team Tennis within a 12-month period in 1992 and 1993.
The Sandsharks signed a number of indoor veterans.  While not household names to the casual sports fan or soccer mom, players like Wes Wade, Franklin McIntosh and Terry Woodberry were well-known to indoor diehards in the late 1980's and early 1990's.  The Sandsharks also signed local product Mark Kerlin, who had played for the city's previous indoor soccer teams the Phoenix Inferno and Phoenix Pride of the Major Indoor Soccer League back in the early 1980's.
The Sandsharks never put together a strong side in the CISL.  In four years of operation, the team never  made the playoffs an finished in last place three times.  In 1995, Colangelo hired Ron Newman, the architect of the San Diego Sockers indoor dynasty of the 1980's, to coach the team.  But Newman only got in one season of rebuilding work before Colangelo decided to dump the team.  New owners Kerri Dunne and Brian Weymouth stepped forward to keep the Sandsharks afloat, but the deal came together so late in the offseason, that the club sat out the 1996 campaign.   When the Sandsharks returned in 1997 (without Newman), they returned to their former ways and finished in last place with an 8-20 record.
The CISL folded amidst investor squabbling after the 1997 season.  Several ex-CISL franchises re-organized in 1998 as the Premier Soccer Alliance.  The Sandsharks were not among them, but a Phoenix-based entry called the Arizona Thunder joined the new league and played three more losing campaigns before folding in 2000.
Links
Continental Indoor Soccer League Media Guides
Continental Indoor Soccer League Programs
##