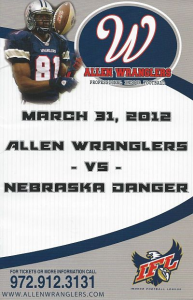 Allen (TX) Wranglers vs. Nebraska Danger
March 31, 2012
Allen Event Center
8 pages
And here it is…the grim end (?) of 5-time All-Pro Terrell Owens' football career, reduced to playing minor league indoor football with the Allen (TX) Wranglers in the spring of 2012.  Owens signed with the Wranglers in January 2012, three months after the free agent staged a highly publicized open workout and no NFL teams showed up to scout an all-time NFL top 5 receiver who caught 72 passes for nearly 1,000 yards just the previous season.
By early 2012, the NFL enfant terrible and reality TV star was not only unemployed but broke.  (During his brief with the Wranglers, Owens appeared on The Dr. Phil Show and admitted the estimated $80 million he earned during his 15-year NFL career was gone and creditors foreclosed on two of his homes).  Owens agreed to his unusual contract with Wranglers GM Drew Pearson, himself a former receiving legend with the Dallas Cowboys teams of the late 1970's and 1980's.  The contract called for a salary of $500,000 – at a time when players in the higher-level Arena Football League earned a few hundred dollars per game – along with an ownership stake in the Wranglers.
Owens' arrival was the biggest thing to ever happen to the Indoor Football League, a three-year old confederation of low-budget clubs that futzes around in total obscurity in places like Grand Island, Nebraska and Casper, Wyoming.  Owens' home debut at the Allen Event Center on February 25, 2012 attracted a crowd of 5,711, which the Wranglers acknowledged was larger than their entire attendance for the 2011 season.  ESPN streamed Owens' indoor debut on its ESPN3 online service.
The Wranglers' T.O. experiment came to an end on May 29, 2012 when the team cut him and revoked his equity stake with three games remaining in the regular season.  The final straw came when T.O. skipped a community appearance at a children's hospital and indicated he did not intend to join his teammates for upcoming road trips to Nebraska and Washington state.
It would appear that Owens is done at the NFL level, but clearly the guy needs to make some quick money.  Perhaps the nostalgic revival of the springtime United States Football League planned for 2013 will provide a landing spot for Owens.  One thing is certain…if he wants to follow the well trodden path of Jose Canseco, he will find that there are always low rent promoters willing to pay him to play indoor football in Gary, Indiana or box Tom Sizemore at Alcatraz or live in tree fort with Kip Winger, Darva Conger and Rep. Anthony Weiner on VH1.  It's hard to imagine we've seen the last of T.O.
##
Post-script: following the 2012 season, new owners took over the Allen Wranglers.  In September 2012, the team was re-branded as the Texas Revolution.  The team will continue to play in Allen at the Event Center.