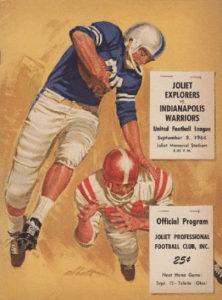 United Football League (1964)
Professional Football League of America (1965-1966)
Born: 1964 – UFL expansion team.
Died: Postseason 1967 – The Joliet Chargers cease operations.
Stadium: Joliet Memorial Stadium
Team Colors:
Owners:
1964: John Cantieri
1964-1967: Joliet Explorers Inc. (numerous local investors)
The Joliet Explorers were a low-level minor league football team formed in 1964 as an expansion club in the United Football League.  The UFL had teams in Indiana, Michigan, Ohio, West Virginia and the province of Quebec.  The Explorers were the league tomato can that fall, posting a record of 0-14.  Their opponents outscored them 591-144.
John Amos played briefly for the Explorers during that futile 1964 campaign.  At the time, Amos was a vagabond minor league running back.  In the 1970's he got into acting, and would play James Evans, Sr., the father on Good Times from 1974 to 1976.  He's been in dozens of other major film and TV roles, including playing meteorologist Gordy Howard on The Mary Tyler Moore Show and Major Grant, the traitorous henchman who battles Bruce Willis on the wing of a passenger jet in Die Hard 2.
At the end of the 1964 season, the United Football League split apart.  The more ambitious teams partnered with defectors from the Atlantic Coast Football League to form the Continental Football League in February 1965.  Joliet fell in with a second faction that was content to remain a low-budget, regional league.  This group formed the Professional Football League of America in early 1965, which consisted of six teams from Illinois, Iowa, Michigan and Nebraska.
Punching bags in the UFL, the Explorers turned around their fortunes in the PFLA.  After posting an 8-1-1 regular season record in 1965, the Explorers swept the Grand Rapids Blazers in a two-game championship series.  The Explorers were competitive again in 1966 at 6-4-1, but finished just outside the playoffs.
In May 1967, Joliet struck an affiliation with the San Diego Chargers of the American Football League.  As part of the deal, the team changed its name to the Joliet Chargers for the 1967 season.  The Joliet Chargers went 10-2 in 1967 and then defeated the Alabama Hawks 31-20 in the PFLA Championship Game to claim their second title in three years.
The Chargers folded following the 1967 season.
==Joliet Explorers/Chargers Programs on Fun While It Lasted==
==Links==
United Football League Programs
##