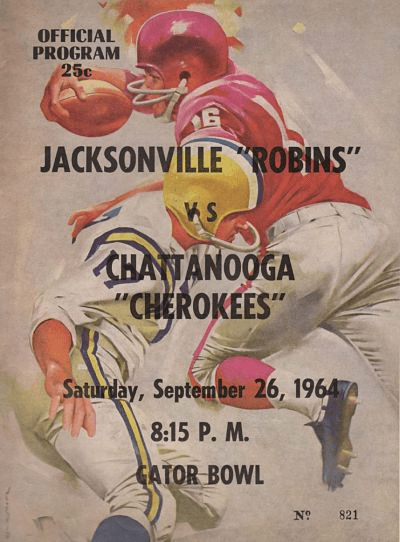 Florida Football League (1962)
Southern Football League (1963-1965)
Born: 1962
Re-Branded: 1966 (Jacksonville Jaguars)
Stadium: The Gator Bowl
Team Colors:
Owner:
The Jacksonville Robins were a minor league football club that played at the Gator Bowl for several seasons in the early-to-mid 1960's.
The club's chief organizer was Head Coach and General Manager Al Bassett and the Robins' rosters featured a number of former Florida State Seminoles, including quarterback Ed Trancygier, running backs Happy Fick and Fred Pickard and tight end/kicker Possum Lee.
The Robins won the championship of the eight-team Southern Football League in 1963.  Pickard dominated the circuit, leading the league in rushing, receiving, touchdowns and total scoring.  In the Championship Game against the Daytona Beach Thunderbirds on November 29th, 1963, Pickard also picked off two passes on defense to help seal the Robins' 13-7 victory.  Only 2,000 fans showed up on a 40-degree night at the Gator Bowl for the title game.
The Southern Football League collapsed after the 1965 season and Jacksonville joined the North American Football League for the 1966 campaign.  As part of the league shift, the team changed its name to the Jacksonville Jaguars.  The NAFL and all of its teams went out of business after the 1966 season.
==Jacksonville Robins Programs on Fun While It Lasted==
Season
Date
Opponent
Score
Program
Other

1964

1964
9/26/1974
vs. Chattanooga Cherokees
??
Program
##