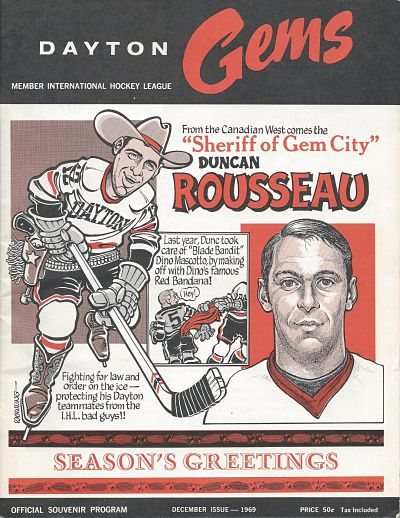 International Hockey League (1964-1980)
Born: 1964
Folded: Summer 1977
Re-Born: 1979
Folded Again: 1980
Arena: Hara Arena
Team Colors:
Owners:
Turner Cup Champions: 1969, 1970 & 1976
The original Dayton Gems were a long-running minor league hockey promotion in the International Hockey League. The team won three Turner Cups as champs of the IHL during fourteen seasons of play.
The Gems went out of business in the summer of 1977. The IHL's Columbus Owls quickly moved into Hara Arena for the 1977-78 season. But the Owls stayed only a few months in Dayton before leaving for Grand Rapids, Michigan in midseason. After a full winter without hockey in 1977-78, the Gems were re-born as a new IHL franchise for the 1979-80 season. The rejuvenated version of the Gems lasted just a single season before folding once and for all in 1980.
The Dayton Gems name and logo was revived by a minor league club that began play at Hara Arena in 2009. The modern-day Gems folded after three season of play in 2012. Hara Arena closed its doors in August 2016 after 52 years of operation.
Dayton Gems Memorabilia
Links
International Hockey League Media Guides
International Hockey League Programs
###