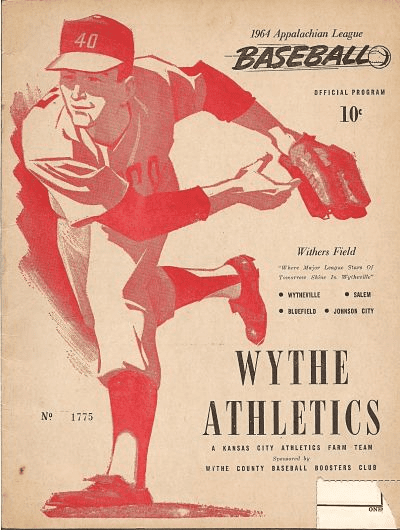 Appalachian League (1964)
Born: 1964 – Affiliation change from Wytheville Twins.
Re-Branded: 1965 (Wytheville Senators)
Stadium: Withers Field
Team Colors:
Owner:
The small Western Virginia town of Wytheville (Pop. 8,211 circa 2010) played hosted to professional baseball off and on from 1948 until 1989.  Major League parent clubs typically didn't stay long – in 25 summers with baseball, the Wytheville club changed names 11 times.   The Kansas City Athletics one-summer partnership with Wytheville  in 1964 was typical of these short commitments.
As Kansas City's Rookie League farm team in the Appalachian League, Wytheville hosted the A's youngest prospects, most of whom were spending their first summer away from home playing pro ball.  The oldest players on the ball club were 22 years old and the Wytheville A's even fielded a couple of 17-year olds.  One of the 17-year olds was Joe Rudi, who played 8 games for Wytheville in 1964 and would have the best Major League career of any one on the team.  Rudi later won three World Series and appeared in three All-Star Games for the Oakland A's in the early 1970's.
Following the 1964 season, Kansas City pulled out and the Washington Senators came in.  The team became the Wytheville Senators prior to the 1965 season.
Eric & Wendy Pastore have photos of what's left of Withers Field in Wytheville on their excellent Digital Ballparks website.  The grandstand remains, but the diamond was converted into a public park in 1993.
==Links==
Withers Field on DigitalBallparks.com
Appalachian League Media Guides
##