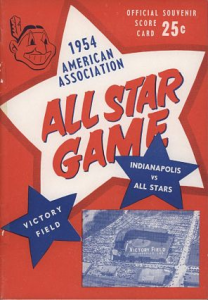 Indianapolis Indians vs. American Association All-Stars
August 9, 1954
Victory Field
Attendance: 10,948
American Association Programs
20 pages
21-year old Herb Score pitched the first two innings of the 1954 American Association All-Star Game for the host Indianapolis Indians.  He blanked a team of All-Stars culled from the Association's other seven clubs and it was no surprise – Score was the finest minor league ballplayer in the country that summer.  For the season, Score led the Association in wins (22), innings (251.0) E.R.A. (2.62) and strikeouts (an incredible 330!)
In fact, the entire 1954 Indianapolis club was a fearsome bunch.  They came into the game with a commanding 15.5 game lead in the American Association pennant race.  Score's minor league roommate and lifelong friend, Rocky Colavito, mashed 38 home runs and drove in 116.  This was the first American Association All-Star Game in eight years, but before the annual exhibition went on hiatus in 1947, the All-Star squad defeated the host team six consecutive times.  That streak came to a halt at Indianapolis' Victory Park (later known as Bush Stadium) as Indianapolis prevailed 3-2 before a near capacity crowd of 10,948.
Score was named the 1954 Sporting News Minor League Player-of-the-Year.  The following summer he was promoted to Cleveland and won American League Rookie-of-the-Year honors, with 16 wins and a league-leading 245 strikeouts.  In 1956 he was even better (20-9, 2.53 ERA) and Cleveland fans salivated over possessing one of the dominant hurlers of the American League through the 1960's.  In early 1957, a few months before Score's third Major League campaign, Boston Red Sox General Manager Joe Cronin reportedly offered the unprecedented sum of $1 million to buy the 23-year old's contract from Cleveland.  Indians' GM Hank Greenberg refused.
But Score's life was marked by extraordinary propensity towards freak accidents and illness.  As a toddler, he was run over by a truck and later in childhood was bedridden for nearly a year with rheumatic fever.  As a high schooler, he had an appendectomy and fractured his ankle playing basketball.  On May 7, 1957 Score started a game against the New York Yankees at Municipal Stadium in Cleveland.  In the first inning Gil McDougald of the Yankees smashed a line drive back up the middle that struck Score, breaking bones in his face and damaging his eye.  He would miss the rest of the season.   Making a comeback the following year, Score tore a tendon in his arm.  After the arm injury, he never regained his form as dominant pitcher.
The Indians traded Score to the White Sox in 1960.  Meanwhile back in the minors, the Indianapolis Indians had changed Major League parent clubs several times during the late 1950's and early 1960's.  By 1962, Indianapolis was a White Sox farm club, although it still used the "Indians" name.  Score found himself back in Indianapolis for most of the 1962 season, appearing in 26 games and winning 10.  But the Score's time was over and after 20 more games in Indianapolis in 1963 he retired at age 30.
Score returned to Cleveland as the Indians' television and (later) radio play-by-play man in 1964.  He stayed for 34 seasons, retiring in 1997.  Score passed away in 2008 at age 75.  The Indianapolis Indians continue to play to this day and are the second oldest minor league baseball team in America, trailing only the Rochester Red Wings in longevity.
###