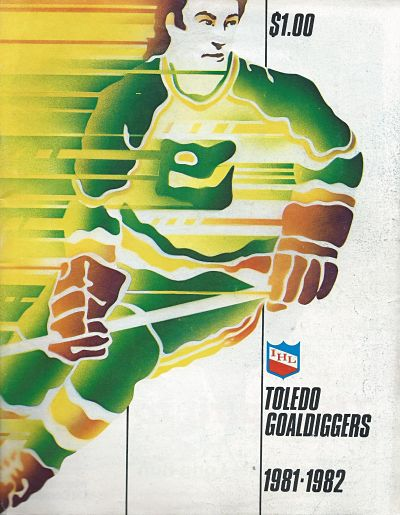 Toledo Goaldiggers vs. Saginaw Gears
Turner Cup Finals Game One
April 28, 1982
Toledo Sports Arena
Attendance:
International Hockey League Programs
34 pages
Colorful program for Game One of the 1982 Turner Cup Finals of the International Hockey League, played in Toledo on April 28, 1982.  The series pitted the IHL's best team in the regular season, the Toledo Goaldiggers (1974-1986), against the Saginaw Gears (1972-1983), who were defending Turner Cup champs, but finished below .500 during the 1981-82 campaign.
The Goaldiggers and the Gears followed a strange route to the Finals.  The late 1970's and early 1980's weren't exactly a golden age for minor league hockey.  By 1981, the IHL was reduced to just 7 franchises.  Oddly, the league allowed six of the seven clubs into the postseason. One can only assume they all needed the money, especially when you consider the IHL's bizarre playoff format.
Think for a moment how you would set up a playoff system with six participants.  Typically, you'd give the top two seeds a bye to the semi-final round and have them face the survivors of a 1st round that pitted seed #3 against seed #6 and seed #4 versus seed #5.  The downside, I suppose, is that those top two clubs face a week or more of payroll without any gate revenue coming in while the 1st round plays out.
Whatever the motivation, the IHL came up with something completely novel.  All six teams played a conventional Best-of-7 series in the first round.  #1 Toledo swept #6 Flint.  #5 Saginaw upset #2 Milwaukee. And #4 Ft. Wayne defeated #3 Kalamazoo.  The weird part is that such a set-up produces three semi-finalists.
So for the semis, the IHL shifted to a round robin format, with Toledo, Saginaw and the Ft. Wayne Komets playing a week-long set of home-and-home contests.  Ft. Wayne lost three out of four to fall by the wayside.  Saginaw and Toledo advanced to the Finals by virtue of having the top two records in round robin.
The championship series reverted back to a conventional Best-of-7 format again.  The Goaldiggers and the Gears was a terrific rivalry.  Although both clubs were less than a decade old in 1982, this was already the third time they battled for the Turner Cup.  Both previous series went the full seven game, with Toledo taking the 1975 Turner Cup and Saginaw getting even in 1977.
This series wasn't quite so thrilling.  The Goaldiggers won four games to one.  They would repeat as Turner Cup champions in 1983 as well.
==Links==
##