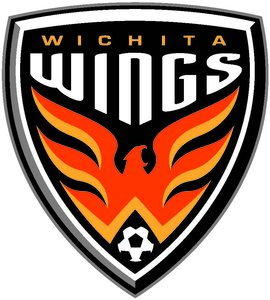 Major Indoor Soccer League (2011-2013)
Born: March 4, 2011 – MISL expansion franchise
Folded: May 2013
Arena: Hartman Arena
Team Colors:
Owner: Wink Hartman
This incarnation of the Wichita Wings indoor soccer team was a short-lived brand revival of the original Wichita Wings, which played from 1979 to 2001.  The old club was a hot ticket for several years in the early 1980's, routinely selling out the Kansas Coliseum and inspiring a fanatical fan club known as the Orange Army.  Although the Wings' popularity declined in the late 1980's and 1990's, the club managed to hang on for 22 years.  During the Wings' final four seasons from 1997 to 2001, it was the longest-running professional soccer franchise in the United States.
A decade after the original team's demise, the new Wings were introduced as an expansion franchise in the Major Indoor Soccer League (MISL) on March 4, 2011.  By this time, the popularity of indoor soccer was in steep decline across the U.S. and league officials seemed intent on mining every last seam of nostalgia from the sport's 1980's heyday.  Three of the seven MISL clubs active for the 2011-12 season were recent expansion teams co-opting the identities of old clubs from the 1970's and 1980's.  The MISL itself was a brand re-boot of a far superior league of the same name to which the original Wings belonged from 1979 to 1992.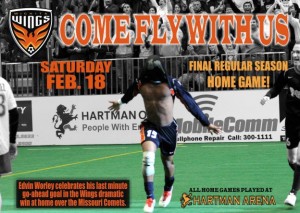 New owner Wink Hartman was a wealthy oilman, entrepreneur and Wichita State grad.  Hartman had the advantage of owning his own building – 5,000-seat Hartman Arena in Park City, which opened in 2009.  He also owned the Wichita Wild indoor football team.
The original Wings garnered national media coverage of their match results in the 1980's and 1990's and frequently appeared on cable broadcasts on ESPN, the USA Network, and SportsChannel America.  The re-booted Wings and the new MISL were basically a matter of local interest, plus a tiny band of indoor cultists and players' family members who relied on Twitter, Facebook and internet message boards to follow the team.
The quality of play was also much lower than in the past.  The Wings of the 1980's were loaded with expensive (albeit aging) imports from top flight European leagues.  The MISL of the 21st century was largely a winter-time refuge for anonymous players from the low-level American minor leagues.   The Wings' most accomplished player was Jamar Beasley, a veteran of 50 Major League Soccer matches with the New England Revolution and Chicago Fire from 1998-2001 and brother of U.S. National Team mainstay DaMarcus Beasley.  Jamar Beasley played for the Wings during their first season in 2011-12.
Even with control of the arena, Wink Hartman found the modern-day MISL to be a money pit and his relationship with the league reportedly soured during the Wings' second season in 2012-13.  In March 2013 Hartman put the team up for sale.  When no buyer materialized by late May, press reports emerged that the team would not return for a third season.  That same month, Hartman summed up his feelings about his MISL experience in comments to KWCH sports anchorJenn Bates:
"I never saw in two years one person from the MISL come to one of my games, give us support, show up in Wichita to help us with advertising or sponsorships.  So, you know, they handed us out a book and took our money, but that was about it."
==YouTube==
Single-camera coverage of a Wings match against the Rochester Lancers at Hartman Arena. February 4, 2012
==Links==
Indoor Soccer 2001-Present Media Guides
Indoor Soccer 2001-Present Programs
###