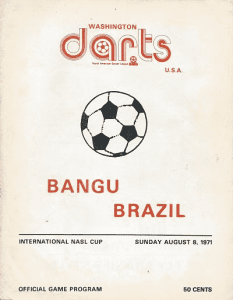 Washington Darts vs. Bangu (Brazil)
August 8, 1971
Catholic University Stadium
Attendance: 4,403
North American Soccer League Programs
8 Pages
Rare match day sheet for a 1971 international match between the short-lived Washington Darts (1968-1971) of the North American Soccer League and visiting Bangu of Brazil.  Bangu was a frequent visitor to the States in the late 1960's and early 70's.  In 1967 the Brazilian club spent most of their summer offseason in Texas, moonlighting as the "Houston Stars" in the United Soccer Association, a league that imported foreign clubs to play under Americanized names.
This match, held at the 7,000 Catholic University Stadium, was part of a short U.S. tour by Bangu in 1971.  The struggling NASL was down to just eight clubs in 1971 and relied on international matches to both generate interest and fill out the schedule.  So this match wasn't a friendly – it actually counted in the regular season standings.
The result was a 2-2 draw.  The Darts got goals from Tibor Szalay and Warren Archibald, but couldn't hold a 2-1 second half lead. Bangu's goals came from Edson Bonfim and Amauri Da Silva.
The debt-ridden Darts club would play only two more home matches after this date with Bangu.  The team was sold in the offseason and moved to Miami where it became the Miami Gatos in 1972.
==Links==
More NASL International Friendlies
##