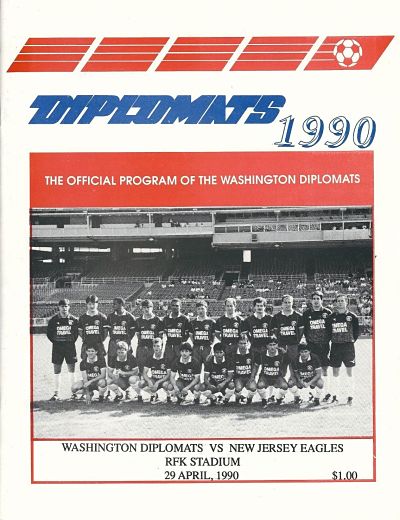 Exhibitions only (1987)
American Soccer League (1988-1990)
American Professional Soccer League (1990)
Born: May 1987 – ASL founding franchise.
Folded: Postseason 1990
Stadium: RFK Stadium (55,750)
Team Colors: Red & White
Owner: Julio Pinon
The Washington Diplomats soccer club of the late 1980's was a low-budget reboot of the old Washington Diplomats (1974-1981) brand from the defunct North American Soccer League (1968-1984).  Just like the old days, the new Dips still played in the enormous environs of RFK Stadium, but everything else was dramatically scaled down, including the competition.  The Dips were part of the American Soccer League (ASL), an East Coast-based pro loop that, together with the similarly regional Western Soccer League (WSL), represented the highest caliber of professional soccer in the United States at the end of the 1980's, aside from the indoor game.
The Diplomats managed to win the first championship of the ASL in the summer of 1988, despite finishing the regular season with a mediocre 10-10 record and placing just one player – forward Joaquin Canales – on the league's postseason All-Star team.  The Dips defeated the Fort Lauderdale Strikers in both legs of a two-game series to claim the title.
In 1990, the American Soccer League merged with the Western Soccer League to form a nationwide league known as the American Professional Soccer League.  To keep costs low, however, teams continued to play a regional schedule during the regular season and playoffs, with the two leagues meeting only in the championship game.
The costs of operating the Dips finally caught up to team owner Julio Pinon during the Dips' third campaign.  Announced crowds of fewer than 1,000 fans were common at 55,000-seat RFK during the 1990 season.  The team's financial problems became so severe that Pinon refused to fly Head Coach Niki Nikolicand several players to Florida for the team's final road trip of the season.  Not surprisingly the Diplomats folded at the end of the 1990 season, as did their nearby ASL rival from the Virginia suburbs, the Washington Stars.
==Washington Diplomats Programs on Fun While It Lasted==
==Links==
American Soccer League Media Guides
American Soccer League Programs
###