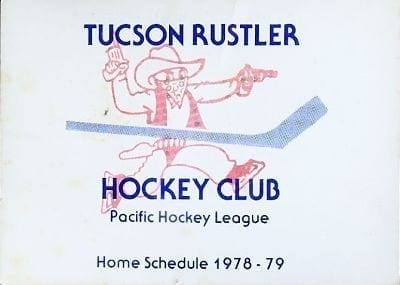 Pacific Hockey League (1978-1979)
Born: 1978 – PHL expansion franchise.
Died: 1979 – PHL ceases operations.
Arena:  Tucson Community Center (6,628)
Team Colors:
Owner: Alf Cadman
The Rustlers were part of Tucson, Arizona's procession of short-lived pro hockey teams in the 1970's, following the Central Hockey League's Tucson Mavericks (1974-1975) and the Tucson Icemen (1976-1977) of the Southwest Hockey League.  Like their predecessors the Rustlers lasted only one season before evaporating, and they were lucky to make it that far.
The club was an expansion franchise in the second-year Pacific Hockey League.   The PHL was a small independent circuit organized by former World Hockey Association execs in January 1977.  Teams had no major league affiliations with WHA or NHL clubs, but had plenty of available talent to choose from, since the WHA was in a contraction phase, leaving many players without work.  The Rustlers lured a pair of top former WHA scorers in Frank Hughes and Tom Simpson.  Hughes had back-to-back 40-goal seasons with the WHA's Houston Aeros in the mid-1970's.  Simpson was a 50-goal scorer for the Toronto Toros in 1975.
Another noteworthy Rustler was Wild Willie Trognitz, a goon so notorious he was banned for life by the International Hockey League in 1977.  (Trognitz earned his own Sports Illustrated feature story that same year – quite an honor for a career minor league enforcer.)
Team owner Alf Cadman, a former hockey player and promoter from Red Deer, Alberta abandoned the club and returned in to Canada in December 1978.  The Rustlers somehow managed to limp through the rest of the 1978-79 season as a ward of the league.  Meanwhile, the rest of the six-team PHL started to fall apart.  The Los Angeles Blades and San Francisco Shamrocks clubs both shut down in January 1979.  Only four clubs finished the regular season and the PHL cancelled the playoffs due to financial woes.  The league went out of business in the spring of 1979, ending the brief run of the Tucson Rustlers.
==Tucson Rustlers Programs on Fun While It Lasted==
==Links==
Pacific Hockey League Programs
1978-79 Tucson Rustlers Roster & Stats on HockeyDB.com
##