Senior Professional Baseball Association (1989-1990)
Born: 1989 – SPBA founding franchise.
Died: Postseason 1990 – The Legends cease operations.
Stadium: St. Lucie County Sports Complex
Team Colors:
Owner: Joe Sprung
The St. Lucie Legends were one of eight original franchises in the Senior Professional Baseball Association, which debuted in November 1989.  The SPBA was a Florisa-based winter time league, which played a 72-game schedule between the end of the World Series and the start of spring training.  Players had to be 35 years of age or older, except for catchers, who could be as young as 32.  (The SPBA's oldest player was 54-year old Ed Rakow of the West Palm Beach Tropics, who last played in the Major League in 1967).
The Legends had some great names, including 1971 American League MVP and Cy Young Award winner Vida Blue, 1977 National League MVP George Foster, and former Major League All-Star Bobby Bonds.  Six-time All-Star Graig Nettles, whose 22-season Major League career concluded one year earlier in 1988, signed on as player-manager.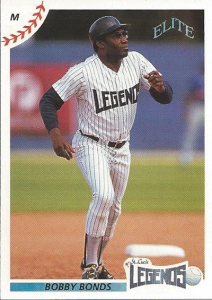 Despite the pedigree of top stars, the Legends were a league doormat, losing 20 of their first 23 games and costing Nettles his manager's post.  Bonds  replaced Nettles as manager for the remainder of the season.
The team also had severe financial struggles.  Actually, the entire Senior Baseball concept was a bust throughout Florida.  The SPBA averaged just 921 fans league-wide during the 1989-90 season, and St. Lucie was one of the worst markets with average attendance of only 607 fans for 36 home games.
Team owner Joe Sprung tried to unload the team midway through the season without success.  The Legends ended up bouncing two payrolls towards the end of the season, nearly resulting in a player walkout.  The team managed to complete the 1989-90 season, finishing dead last at 20-51.  The club folded shortly thereafter.
The SPBA contracted to six clubs – including expansion teams in Arizona and California – and attempted a second season in the winter of 1990-91, but lasted only a month before folding abruptly in December 1990.
##
Each SPBA team was allowed up to three players with no Major League experience.  The Legends signed a 31-year old ex-minor league catcher named Chuck Fick.  The pinnacle of Fick's playing career was 19 games in triple-A in 1983.  Fick then went Hollywood, playing bit parts as ballplayers in films like Mr. Baseball and The Sandlot.  Prior to joining the Legends in 1989, his most recent catching experience was as the perplexed California Angels backstop dealing with Leslie Nielsen in the 1988 hit comedy The Naked Gun:
==Key Players==
Vida Blue
George Foster
Graig Nettles
Luis Tiant
==Downloads==
1989-90 Senior Professional Baseball Association standard player contract
1989-90 Senior Professional Baseball Association Attendance Figures
==Links==
Senior Professional Baseball Association Programs
"Senior Citizens" – Kenn Tomasch's SPBA retrospective on Kenn.com
###