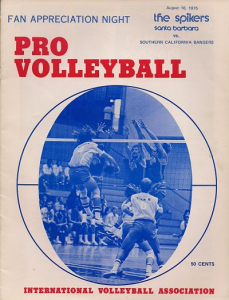 Santa Barbara Spikers vs. Southern California Bangers
August 16, 1975
International Volleyball Association Programs
12 pages
Early program from the defunct International Volleyball Association (1975-1980).  The IVA was one of two attempts to establish a major professional co-ed sports league during the 1970's, with World Team Tennis being the other.
Noted co-ed sports aficionado Wilt Chamberlain was an early investor in the league.  He owned the Southern California Bangers (yes, really) franchise during the IVA's inaugural season in 1975.  The 39-year old retired basketball legend was also a terrific volleyball player and sporadically suited up for the Bangers (and, in later seasons, for the IVA's Orange County Stars and Seattle Smashers).
When Chamberlain traveled and suited up with the team, the crowds around the league turned out, as on this night in Santa Barbara on August 16, 1975.  The Spikers drew a season-high 3,521 for the match.  Wilt's Bangers, however, were not very good.  The Spikers beat them in straight sets on this evening (12-1, 12-9 an 12-7).  The 7′ 2″ Chamberlain was the centerpiece for the Bangers, recording 26 kills in 52 attempts.  Santa Barbara native and former USCB All-American Jeff Reddan paced the Spikers with 18 kills on 38 spikes.
The Bangers finished the season 6-18 and were the only club out of the IVA's founding five teams not to return for the circuit's second season in 1976.  The Spikers, by comparison, proved to be the most enduring of IVA clubs, lasting all the way until 1980, when the pioneering volleyball league quietly closed its doors midway through its sixth season.
Chamberlain became President of the IVA in 1977 and continued to play sporadically and serve as one of the faces of the league throughout the late 1970's.
==Downloads==
1975 Santa Barbara Spikers roster

1975 Southern California Bangers roster
Spikers-Bangers Article Sources
##