North American Soccer League (1974-1981)
Born: January 21, 1974 – NASL expansion franchise
Folded: December 1980
Re-Born: February 28, 1981 – The Detroit Express relocate to Washington, D.C.
Folded Again: September 1981
Stadia:
Team Colors:
Owners:
1974: Nick Mangione, Mike Finci, et. al.
1975-1978: San Juan Racing, Inc. (Steve Danzansky, et al.)
1979-1980: Gulf & Western/Madison Square Garden Corp. (Sonny Werblin) & Steve Danzansky
1981; Jimmy Hill, Duncan Hill, Gary Lemmen, et al.
Soccer Bowl Championships: None
The Washington Diplomats were the third attempt to establish pro soccer – and a North American Soccer League franchise – in the nation's capital.  Club founders Nick Mangione and Mike Finci ponied up $75,000 to buy their NASL expansion franchise in January 1974. The Diplomats hired former Manchester United star and Munich air disaster survivor Dennis Viollet to coach the team.
The Dips, as the team was colloquially known, struggled to establish an identity in their early years. The team was mediocre during the Viollet (1973-1977) and qualified for the postseason only once. Ownership changed hands in 1975, with the Daznansky family buying out Mangione and his partners for $650,000. The club bounced back and forth between RFK Stadium and a high school football stadium in Fairfax, Virginia from 1974 to 1976. RFK conveyed big-city, Major League status. W.T. Woodson High School was economical and more convenient for the Dips' white flight core audience. The Fairfax games also marked the Dips as a distinctly minor league operation.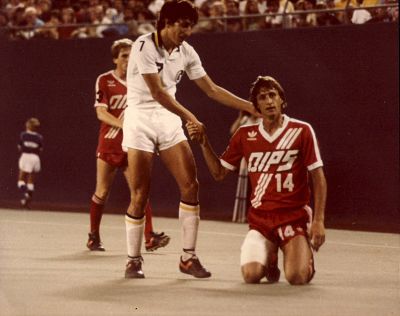 The Diplomats' glory years came during a brief period at the end of the 1970's. The club hired John Carbray as General Manager in October 1976. Carbray, a veteran minor league baseball exec, brought his innovative promotions to soccer in 1976 with the NASL's San Jose Earthquakes. Carbray persuaded the Dips' ownership to commit to RFK Stadium once and for all. The NASL was never a league to worry much about FIFA conventions. Carbray embrace the league's permissiveness, introducing multi-colored penalty areas and goal boxes at RFK. He also hired former New York Cosmos manager Gordon Bradley to replace Viollet as the club's Hea Coach in 1978.
Announced attendance rose from 5,963 per game in Fairfax in 1976 to 13,037 at RFK in 1977 during Carbray's first season in charge. The team had a major on-field improvement in form in 1978 under Gordon Bradley.  But attendance fell back to 10,783 and the team remained deeply in the red.
A lifeline arrived in October 1978 when Madison Square Garden Corporation, a subsidiary of the publicly traded conglomerate Gulf & Western, purchased the team. Madison Square Garden owned the NBA's New York Knicks and the NHL's New York Rangers. MSG Chief Executive Officer Sonny Werblin was the man who built the New York Jets and signed Joe Namath, setting in motion the AFL's infamous upset of the NFL champion Baltimore Colts in Super Bowl III. With Gulf & Western's resources behind the team, it suddenly seemed plausible that the Diplomats could take on the Time Warner-owned New York Cosmos as an international super club.
"Sonny and his crew are out to spend it all," Atlanta Chiefs Director of Operations Terry Hanson predicted to Alex Yannis of The New York Times in December 1978. "I hear they are going to crank the whole thing wide open, spend all the money they have for players … I hear they already call them the Cosmos of the South."
After Madison Square Garden's takeover, the Diplomats negotiated for Argentine World Cup captain Daniel Passarella and nearly signed English captain and 1978 European Football-of-the-Year Kevin Keegan. But the Sonny Werblin era was not without controversy. Werblin's original goal in buying an NASL club was to move the team to Shea Stadium in Flushing and take on the New Jersey-based Cosmos head-to-head. MSG ultimately balked at the $12 million territorial fee demanded by the Cosmos and elected to stay in D.C. But Werblin's long-term commitment to Washington was placed into question from the start.
Washington Diplomats Shop
Diplomats Distressed Logo T-Shirt by Ultras
Diplomats Soccer Shorts by Ultras
Rock n' Roll Soccer: The Short Life & Fast Times of the North American Soccer League by Ian Plenderleith
Washington Diplomats Memorabilia
Diplomats Video
In Memoriam
Owner Sonny Werblin (Dips '78-'80) died of a heart attack on November 21, 1991 at the age of 81. New York Times obituary.
Forward Bobby Stokes (Dips '77-'80) died of bronchial pneumonia on May 30, 1995 at 44 years of age.
Manager Dennis Viollet (Dips '74-'77) passed away after a two-year battle with brain cancer on March 6, 1999 at age 65.
Manager Gordon Bradley (Dips '78-'80) passed on April 29, 2008 after fighting Alzheimer's Disease. He was 74. New York Times obituary.
Midfielder John Kerr, Sr. (Dips '76-'77) passed away from heart disease on June 19, 2011 at the age of 67. Washington Post obituary.
Midfielder Johan Cruyff died of cancer on March 24, 2016. The Flying Dutchman was 68 years old. New York Times obituary.
Downloads
1977 Washington Diplomats Ticket Brochure
1977 Washington Diplomats Media Guide Additions & Deletions
8-6-1977 Washington Diplomats vs. New York Cosmos Game Notes
5-27-1980 Washington Diplomats vs. New York Cosmos Match Preview Press Advisory
6-1-1980 Washington Diplomats vs. New York Cosmos Game Notes
Soccer Bowl '80 Ticket Order Form
1980 Arthur Treacher's Soccer Teacher Booklet
8-12-1981 Washington Diplomats vs. New York Cosmos Game Notes
Links
Jim Reed's excellent Diplomat fan/history site: washingtondiplomats.blogspot.com
North American Soccer League Media Guides
North American Soccer League Programs
###