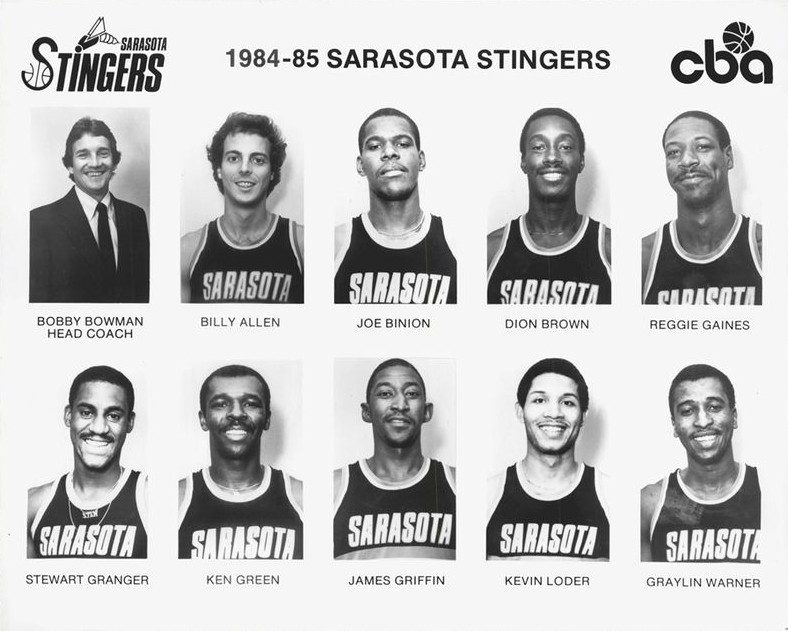 Continental Basketball Association (1983-1986)
Born: 1983 – CBA Expansion Franchise
Moved: July 1986 (Charleston Gunners)
Arenas:
Team Colors:
Owners:
CBA Championships: None
"We didn't borrow any money for this," Jeffrey Fischer told The Sarasota Herald-Tribune in early 1984, bragging about his new Sarasota Stingers basketball team.  "I took what I considered to be risk capital and invested it."
Technically, this was true.  Fischer, a stockbroker for E.F. Hutton in Sarasota, did not borrow any money to run his Continental Basketball Association expansion franchise in the winter of 1983-84.  He stole it from his mostly elderly brokerage clients.  And he got away with it for an entire season before the Securities & Exchange Commission caught up to him in June 1984.
Journeyman basketball coach Bill Musselman briefly helmed teams in the ABA, the NBA and the Western Basketball Association.  A Sarasota resident, Musselman brought the idea of forming a CBA team to Jeffrey Fischer in the summer of 1983. Fischer paid $180,000 to the CBA for his expansion franchise that August.  Musselman signed on as Head Coach and General Manager.
Kevin Loder – Stingers Forward 1983-1985
Bill Musselman was a no-nonsense guy.  He was a hard-nosed guy.  He was very intense and he played to win.  He put his best players out there on the floor and he expected them to play hard for him.  Bill Musselman and I got along great and I really miss him.  He was a guy that was definitely a gift to the game and he was a winner.
**
On the court, the Stingers struggled out of the gate.  After a 6-13 start, Fischer forced Musselman's resignation in January 1984.  Musselman found a local money guy and offered to buy the team from Fischer instead, but scoffed when Fischer asked for $1 million – a 455% premium over what he paid for the team five months earlier. "Does he think we're a couple of hayseeds?" Musselman fumed to The Sarasota Herald-Tribune.
The Stingers finished the 1983-84 campaign tied for last place in the CBA's Eastern Division with a 16-28 record.  Three Stingers players – Clay Johnson, Mike Sanders and former Kansas City Kings first round draft pick Kevin Loder earned call-ups to the NBA during the season.
Kevin Loder
Magic Johnson and I are both from Michigan. He told me a story that he had vouched for me to be chosen for a call up to the Lakers during their run to the NBA title in 1985. It was between Don Collins, Chuck Nevitt and myself. And they ended up choosing Chuck Nevitt, who was a big 7′ 6″ guy to back up Kareem. And Chuck Nevitt played something like three minutes in 10 or 12 games at the end of the season and all through the playoffs. He got a ring and made about $275,000 or $300,000. Just that close, the choice could have been me.
**
For a man making bad bets with stolen money – the Feds would later show that Jeffrey Fischer defrauded his clients of $2.3 million between 1977 and 1984 – Fischer spent a lot of time crowing to the local media about the alleged details of the Stingers' finances.  His club sold an all-time record of 1,348 season tickets for the 1983-84 campaign.  He had to cut off the waiting list of interested investment partners after more than 120 people clamored to get a piece of the Stingers.  He expected to make a 40% annual return on his Stingers investment.  He was preparing to apply for an NBA expansion franchise for Tampa-St. Pete.  None of it was true, but it all made for great press at first.
In June 1984 the authorities caught up to Fischer and froze his assets, which placed the Stingers in limbo throughout the summer.  Fischer's sole minority investor (out of the 120 allegedly clamoring for a piece of the team) was a guy named Mike Cohn who recruited two new partners and rescued the team in August 1984.   Then he began to sort through the books.
Fischer's boasts to the media – and his own partner – were fabrications.  Of the CBA record 1,300 season tickets Fischer claimed, Cohn could only account for 300 actual paid tickets.  Robarts Sports Arena was routinely papered with free tickets and the club lost about $200,000.  Even the NBA expansion papers that Fischer showed to Cohn turned out to be "forgeries…a figment of his imagination", Cohn told The Sarasota Herald-Tribune.
Kevin Loder
At that particular time they were trying to create a large critical mass <of teams> in the CBA.  Let's just say there was not a lot of scrutiny about the background checks, if you will, of where and how someone makes their money.
At any rate, players were removed from that.  We just assumed that whoever was a part of <ownership> was capable of delivering.  That kind of thing happened overseas as well and so those were common place stories when you were playing in these leagues that were not the NBA.  Stability was in the NBA.
**
Reorganized in the front office, the Stingers continued to struggle on the court in their second season.  The club finished in 7th (last) place in the East with a 21-27 record.  After the 1984-85 season, the Stingers moved 15 minutes north up Interstate 75 to the Manatee Civic Center in Palmetto, Florida.  The club played one final season in the winter of 1985-86 under the name "Florida Stingers" at the 3,900-seat Manatee.  The Stingers averaged 1,096 per games during their lone season in Palmetto and once again finished out of the playoff hunt with a 21-27 record.
In July 1986, new ownership purchased the franchise and relocated the team to Charleston, West Virginia for the 1986-87 CBA season.
##
Fischer pled guilty to three counts of fraud in April 1985 and was sentenced to four years in federal prison.  In the early 1990's he re-surfaced in Central Florida running QMC, a medical billing company.  In 1996, he was convicted of swindling a tax-payer funded county hospital out of $1.2 million, which he used in large part to squander on risky stock trades.  Fischer received a five-year sentence in the QMC case.
Bill Musselman had great success in his next two CBA coaching stops with the Tampa Bay Thrillers and Albany Patroons.  He leveraged his CBA track record to return to the NBA, where he was named the first head coach of the Minnesota Timberwolves when that expansion franchise began play in 1989.  Musselman coached the T-Wolves for their first two seasons of existence and  joined the Portland Trailblazers as an assistant coach in the late 1990's.  Musselman suffered a stroke following a pre-season game in October 1999 and died due of heart and kidney failure in May 2000 at the age of 59.
==In Memoriam==
Former Stingers Head Coach Bill Musselman died on May 5, 2000 of heart and kidney failure after a series of ailments.  He was 59.
==Downloads==
2011 FWil interview with Stingers player Kevin Loder
United States v. Jeffrey Allan Fischer appeal 1999
Sarasota/Florida Stingers sources
==Links==
Continental Basketball Association Media Guides
Continental Basketball Association Programs
###