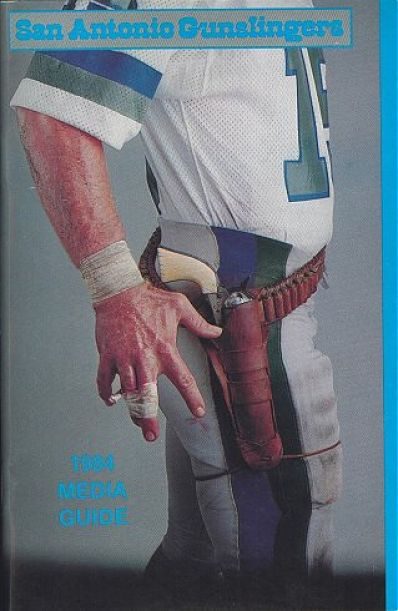 United States Football League (1984-1985)
Born: 1983 – USFL expansion franchise.
Folded: July 23, 1985
Stadium: Alamo Stadium
Team Colors:
Owner: Clinton Manges
USFL Championships: None
The San Antonio Gunslingers were a gritty, hard-nosed team in the short-lived United States Football League.  Although they posted losing records in both of their spring campaigns, they competed harder under adverse conditions than perhaps anyone had a right to expect.  Despite having the lowest payroll in the USFL, team owner Clinton Manges stopped paying it during the club's second season in 1985.  To make ends meet, players began trading game tickets for food and finding local families to take them in.  Despite this, the team of mostly anonymous and unpaid journeymen won two of their final three games.  Then they took their battles from the gridiron to the court room.
Manges had a remarkable backstory. He was an Okie who dropped out of elementary school at the height of the Depression to pick cotton.  Later he worked as a watch repairman, service station attendant and bowling alley owner before amassing his fortune as a land baron and political power broker in the sprawling brush country of South Texas.  It might have been an inspirational rags to riches tale, but for the fact that Manges was also a convicted felon and a combative, inveterate tax dodger and check bouncer.  He arrived at the USFL's doorstep, expansion application in hand, in the summer of 1983, while dozens of unpaid creditors chased him around the 100,000-acre ranch he referred to as "the Magic Kingdom" in fruitless attempts to serve papers.  The USFL let Manges in anyway, to its eternal chagrin.
The Gunslingers were the sixth and final expansion team admitted for the USFL's second season in the spring of 1984.  A wave of deep-pocketed new owners vowed to take on the NFL for the best free agent and college draft talent available.  Pittsburgh Maulers owner Edward Debartolo Sr. inked University of Nebraska Heisman Trophy winner Mike Rozier to a $3.1 million dollar deal.  New Jersey Generals owner Donald Trump raided the NFL for veteran free agents, including 1980 MVP Brian Sipe.  Los Angeles Express owner J. William Oldenburg signed a slew of projected NFL 1st round draft picks, including future Hall of Fames Steve Young and Gary Zimmerman.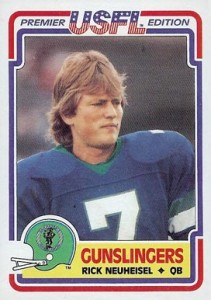 Manges and his Gunslingers looked and acted nothing like those teams.  The team signed only one of its twenty-five college draft picks.  That man, rookie quarterback Rick Neuheisel of UCLA, was the team's highest paid player at a modest $70,000 per year.  Neuheisel's 34-year old backup Karl Douglas last played with British Columbia of the Canadian Football League…in 1976.  Defensive end Mike St. Clair,  a veteran of the Cincinnati Bengals 1982 Super Bowl team, was best known name on an opportunistic defense known as "The Bounty Hunters" that put up a plus-13 takeaway ratio in 1984.
The team did enter negotiations with Houston Oilers star running back Earl Campbell in February 1984.  Unlike the other big name NFL stars who jumped to the spring season USFL in 1984, Campbell was not a free agent.  Campbell planned to challenge the exclusivity clause in NFL contracts and play year-round in both leagues.  Campbell, famed for his punishing running style, would last only two more seasons in the NFL.  Anyone familiar with Campbell's post-career health problems should be thankful his 12-month plan never came to pass.
The Gunslingers debuted at home against the New Orleans Breakers on February 27th, 1984.  It was a homecoming of sorts for Breakers starting quarterback Johnnie Walton, who starred for the San Antonio Wings of the doomed World Football League in 1975.  The Breakers sent the announced crowd of 18,233 home disappointed, dealing the Gunslingers a 13-10 loss.  After the season, a creditor lawsuit against Manges revealed that the team systematically over-reported attendance to the public. The team's internal numbers showed that only a little over 10,000 fans showed up for the opener.
At the second home game against Jim Kelly and the Houston Gamblers on March 5, 1984, Alamo Stadium plunged into darkness midway through the 3rd quarter.  The power outage postponed the game nearly an hour.  The Gunslingers lead the league in such misadventures, which has helped fuel their cult following to this day.  Witness:
The unnamed Gunslinger scratched from a 1985 game after slamming his penis in a storage trunk
After struggling for approval to play in and expand Alamo Stadium due to congestion and noise concerns, the Gunslingers held a promotion to determine which tailgating fan had the loudest car stereo
The story – apparently apocryphal – of 72-year old team President/Manges stooge Bud Haun crawling out an office window to hide from irate players looking for paychecks
According to the excellent USFL.info history site, a clueless Gunslingers staffer asked the league office for head sizes of all USFL players, under the mistaken belief that the home team was responsible for providing helmets to each visiting club
After an 0-4 start, the Gunslingers rebounded to win half of their remaining games and finish at 7-11, thanks largely to the stout defense.  The team claimed average attendance of 15,444 (inflated) against actual season ticket sales of just over 3,500.
Heading into their second campaign in 1985, the Gunslingers' returning Defensive Coordinator Jim Bates took over head coaching duties from Gil Steinke who became General Manager.  The condition of the team's business operations – already a league joke – deteriorated substantially.  Manges was always cash poor.  In a lengthy 1984 profile in Texas Monthly magazine, author Paul Burka characterized Manges' late 1970's liquidity problems and track record with creditors:
Manges' problem was more one of philosophy than one of money. His financial statement at the time showed $67 million in assets ($24 million or the Duval County Ranch, $33 million for oil and gas properties like the Guerra lands, and $5 million for the Groos Bank were the main items) and only $27 million in liabilities ($19 million in loans and the rest in past-due bills). That left his net worth at $40 million. But cash flow was his problem. To pay his debts he would have had to sell land, and that was unthinkable. Land is power; one gets rich by accumulating assets, not by selling them.
Burka's analysis shrewdly foreshadowed the situation that the USFL – and Gunslingers players and staff – found themselves in with Manges a year later in the spring of 1985.  Four of the team's first five payrolls in 1985 were either late or a portion of the checks bounced.  Gunslingers President Bud Haun promised to cobble together one payroll through a combination of cash and his own personal checks.  Years later, players recalled Cannonball Run-style derbies on pay day, as players raced to the bank, knowing only the first few checks would clear.  A Gunslingers plane sat idle on the tarmac following a game in Jacksonville. The team discovered that Manges hadn't paid for a flight home.
12 games into the 1985 season, with the Gunslingers record at 3-9, Manges failed yet again to make good on late paychecks. Head Coach Jim Bates resigned in protest. Former coach Gil Steinke returned from the administrative office to finish out the last six games.
"I admire <Bates> for that," starting cornerback Peter Raeford told The South Florida Sun-Sentinel in 2004. "I remember my eyes welled up that day because not only was he a man of character, but he brought a lot of energy to the team."
In early June 1985, Manges paid out two overdue payrolls, beating an arbitrator's deadline by a few hours.  He paid every player except offensive lineman Lee Spivey, whom he stiffed because Spivey had the nerve to file suit for his back wages.  (Another disgruntled Gunslinger, Ken Gillen, was traded for complaining in the press about late paychecks).   Manges promptly missed the next two payrolls and stopped paying the team's bills entirely in June 1985.  Gunslingers' players were left with over $600,000 in unpaid salaries.  Exasperated USFL Commissioner Harry Usher formally revoked the franchise on July 23rd, 1985.
The players' subsequent efforts to recover their pay dragged out in the courts into 1988.  The litigation outlasted the USFL itself, which folded in August 1986. Manges declared bankruptcy in the late 1980's.
Coach Jim Bates went on to a long career in the NFL as a defensive assistant and coordinator, including a seven-game stint as interim Head Coach of the Miami Dolphins in 2004.  His most recent post was as Defensive Coordinator of the Tampa Bay Buccaneers in 2009.
Rick Neuheisel played for the San Diego Chargers as a replacement player during the 1987 NFL strike.  He subsequently has held high profile college head coaching positions at Colorado, Washington and his alma mater, UCLA.
Clinton Manges lost his Magic Kingdom ranch in February 1991 when the U.S. Marshals arrived in Black Hawk helicopters to evict Manges from the foreclosed property.  By this point, Manges owed at least $89 million to his creditors.  He later went to prison on federal bribery and mail fraud charges in 1997.  Manges died at age 87 in September 2010.
"My father was a perfect example of how far being an ornery old bastard can take you," his daughter MaLou Manges told the San Antonio Express-News upon his death.
San Antonio Gunslingers Shop

Gunslingers Retro T-Shirt by Throwback Max

Just published! One of FWIL's Top Sports Books of 2017
San Antonio Gunslingers Memorabilia
Gunslingers Video
The night the lights went out in San Antonio …. Gunslingers vs. Houston Gamblers, March 5, 1984.  Fast forward to about the 97-minute mark for the power outage at Alamo Stadium.
Links
United States Football League Media Guides
United States Football League Programs
###