Roller Hockey International (1993-1997, 1999)
Born: 1993 – RHI founding franchise.
Died: Postseason 1999 – RHI ceases operations.
Arenas:
Team Colors:Red, Black & Yellow Gold
Owners: Bernie Federko, Dale Turvey, et al.
The St. Louis Vipers were one of 12 original franchises in Roller Hockey International, which began play during the summer of 1993.  RHI was an attempt to cash in on the inline skating phenomenon of the early 1990's and the league did establish a minor footprint in the middle of the decade, securing an ESPN/ESPN2 contract and attracting investment from a few NHL owners, including Dr. Jerry Buss and Howard Baldwin.
Longtime St. Louis Blues star Bernie Federko was the frontman for the Vipers' ownership group and also served as the team's Head Coach for the 1993 and 1994 seasons.  Another Blues connection was Perry Turnbull, the #2 overall pick in the 1979 NHL amateur draft, who played two stints with the Blues between 1979 and 1988.  Turnbull finished out his playing career with the Vipers in 1993 and 1994 and then took over head coaching duties from Federko in 1995.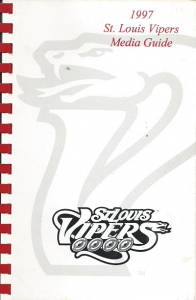 The Vipers played their first two seasons at the old St. Louis Arena, before moving to the brand new Kiel Center in 1995.
Most of the Vipers'  players were ice hockey minor leaguers keeping in shape and pocketing extra money during the offseason.  The Vipers all-time leading scorer was Christian Skoryna (118 goals) was a typical story.  Skoryna came to RHI out of junior hockey after being passed over in the NHL draft.  He played all six seasons that RHI existed and later played six years of pro ice hockey, almost entirely in low-level independent leagues.
RHI was a chronically unstable league, with teams coming and going in large numbers every season.  The Vipers were one of the most stabled franchise.  Along with the Anaheim Bullfrogs, they were one of only two clubs to survive for all six seasons that RHI existed from 1993 to 1999.  But the Vipers weren't immune to the league's problems.  According to a December 1996 St. Louis Business Journal profile, the franchise lost $1.5 million over its first four seasons of operation and required a lifeline from the owners of the St. Louis Blues and the Kiel Center to return for a fifth season in 1997.
After the 1997 season, RHI suspended operations and cancelled the 1998 campaign.  The league re-organized under former Major League Baseball executive Bernie Mullin and managed to get a chaotic and under-capitalized 1999 season off the ground.  The Vipers returned from the one-year layoff and won the final Murphy Cup championship in the summer of 1999.  Roller Hockey International died of exhaustion shortly thereafter.
==YouTube==
The Vipers host the Buffalo Stampede at Kiel Arena in 1995.
==Links==
Roller Hockey International Media Guides
Roller Hockey International Programs
St. Louis Vipers All-Time Roster on HockeyDB.com
###