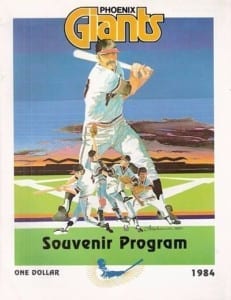 Pacific Coast League (1966-1985)
Born: 1966 – The Tacoma Giants relocate to Phoenix
Re-Branded: 1986 (Phoenix Firebirds)
Stadium: Phoenix Municipal Stadium
Team Colors:
Owners: 
1966-1973: San Francisco Giants
1973-1977: John Ashby, Dan Walker, Ethan Blackaby, et al.
????-1985: Martin Stone, et al.
PCL Champions: 1977
The Phoenix Giants were the long-time top farm club of the National League's San Francisco Giants. (This edition of the Giants followed an earlier Phoenix Giants entry in the Pacific Coast League in 1958-1959).
Giants prospects roasted in the Phoenix heat during the summer months. In a 2014 retrospective on the team, catcher Bob Brenly (Phoenix '80-'81) told Scott Bordow of The Arizona Republic that he routinely lost eight to ten pounds in water weight at each home game.
The Giants won their lone Pacific Coast League crown during the 1977 season.
Following the 1985 season, the franchise was re-branded as the Phoenix Firebirds. The Firebirds remained an affiliate of the San Francisco Giants for another twelve seasons through 1997 until minor league baseball was displaced by the Arizona Diamondbacks Major League expansion team. The former Phoenix Giants/Firebirds franchise moved to Tucson in 1998.
Phoenix Giants Programs 1966-1985
==Links==
"Before Chase Field, Phoenix heat didn't stop baseball", Scott Bordow, azcentral sports, July 12, 2014
Pacific Coast League Media Guides
##