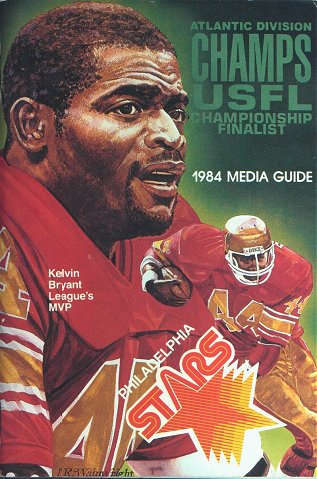 United States Football League (1983-1984)
Born: May 11, 1982 – USFL founding franchise.
Moved: October 1984 (Baltimore Stars)
Stadiums:
Team Colors:
Owner: Myles Tannenbaum
USFL Champions: 1984
Text coming soon…
Philadelphia Stars Shop
Philadelphia Stars Weathered T-Shirt by A&E Designs

Philadelphia Stars Retro T-Shirt by Throwback Max
Just published! One of FWIL's Top Sports Books of 2017
Stars Video
1983 USFL Championship Game on ABC Sports.  Michigan Panthers vs. Philadelphia Stars at Mile High Stadium in Denver. July 17, 1983.
1984 Inside The USFL feature on the Stars' remarkable track record…
In Memoriam
Former Stars linebacker Sam Mills passed away April 18, 2005 at age 45 after a two-year battle with cancer. New York Times obituary.
Stars founder and owner Myles Tannenbaum died on August 31, 2012 at the age of 82 years old.
Links
United States Football League Media Guides
United States Football League Programs
##